Last year there were 16 total civil jury trials in state circuit courts in Hawaii, 4 personal injury motor vehicle and 8 personal injury non motor vehicle. Only 12 Personal Injury cases went to trial by jury in the entire state in 2005. So why are the insurance companies and doctors complaining about medical malpractice cases and asking for restrictions on med mal victims rights? For 20 years I have been trying cases in hawaii courts and watching the public be misled by insurance companies and big corporations when it comes to how many lawsuits are being filed and whether our courtrooms were clogged with cases.
These numbers raise some questions for hawaii citizens. The courthouse doors aren't nailed shut but are they getting too hard to open for Hawaii citizens? Or is it something else? The information comes from the Hawaii Judiciary Annual Report for FY 2004-2005.
Other numbers are also interesting:
Total filings in hawaii Circuit Courts in Fiscal Year 2004-2005 were 11,530
Civil Filings were 3,661 or 32%
Case Terminations were 11,652
Pending cases at end of Fiscal Year 2004-2005: 32,505
The 2004-20056 data and reports from previous years may be viewed on |the Judiciary Web site at www.courts.state.hi.us and also at the Supreme Court Law Library on O`ahu and Circuit Court law libraries on the islands of Hawai`i, Maui and Kaua`i.
One thing is certain. Hawaii is not a state where anyone could say their is lawsuit abuse. and doctors whose insurance rates are high can see that perhaps their insurance company is charging them unfairly high rates. that is a much more reasonable conclusion than blaming their patients for seeking justice when a doctor is negligent. The corporate CEO's and the HMO's are to blame for cutting back on treatment and short-changing the doctors on their billings. They put people over profits. Don't let them close the courtroom doors on your rights.
www.peopleoverprofits.com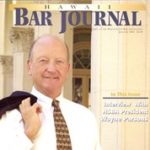 A resident of Honolulu, Hawaii, Wayne Parsons is an Injury Attorney that has dedicate his life to improving the delivery of justice to the people of his community and throughout the United States. He is driven to make sure that the wrongful, careless or negligent behavior that caused his clients' injury or loss does not happen to others.