Nearly everyone in the country has a credit card and some form of bank account. Along with those necessary parts of modern life, come endless streams of paperwork that no one reads because it is too voluminous, complex and confusing. Plus, if you want a bank account or credit card or loan or any financial service, you are forced to accept the terms they dictate. What if the bank or credit card company cheats a customer? The paperwork that the customer signed probably contains terms that prevent going to court for justice, and mandate a binding arbitration done by a private company chosen by the bank or credit card company. The word "binding" means that whatever the arbitration company decides is final and cannot be taken to court where an independent judge can review the decision.
What happens when you make a claim against a bank that has cheated you?
In a recent report by the American Association for Justice, Forced Arbitration and Big Banks: When Consumers Pay to Be Ripped Off, a review of 13,179 claims showed that the customers lose and get nothing, 98.2% of the time.
Just 237 Americans out of 13,179 won monetary awards against banks and other financial services companies in forced arbitration at the American Arbitration Association (AAA)—the largest arbitration provider in the country—during the five years from 2017 to 2021, making for a win rate of just 1.8%. That makes the likelihood of winning a forced arbitration case against a bank nearly half the overall win rate against all corporations, which was already a pitiful 4.8%.
Congress is looking into laws that will outlaw forced arbitration. If banks and credit card companies face customer claims in public court, with independent local judges, and local citizen juries, they will be held accountable.
It's time to stop forced arbitration.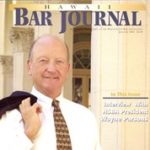 A resident of Honolulu, Hawaii, Wayne Parsons is an Injury Attorney that has dedicate his life to improving the delivery of justice to the people of his community and throughout the United States. He is driven to make sure that the wrongful, careless or negligent behavior that caused his clients' injury or loss does not happen to others.