Tom Finnegan reports in the Honolulu Star Bulletin that Kauai Judge Randal Valenciano has ordered Hawaii Employers' Mutual Insurance Company (HEMIC), an insurance company that advertises heavily in the Hawaiian Islands, to pay $325,000 to an 80-year-old woman who was forced to rely on handouts from neighbors when the company refused to honor her claim. Sound familiar? Read on.
Judge Valenciano saw the conduct to be so bad that he ordered HEMIC to pay $250,000 in "exemplary" damages which means he wanted other insurance companies to know that Hawaii consumers will not tolerate this type of behavior by a huge insurance company. Setting an example is harsh but how many of you have wanted someone to be "harsh" with an insurance company?
Will HEMIC and other Hawaii insurance companies pay heed to Judge Valenciano? Probably not. HEMIC has a record of huge profits. In 2006 their surplus doubled to a record $103 million from the year 2005 surplus of $51.4 million. Go figure. Esmeralda was watching them wrongfully deny her daughters wrongful death claim in those years. Are they the good company or full of shibai? You tell me. Or better yet tell Governor Lingle and her insurance commissioner Schmidt who seems to always support the insurance executives.
Attorney Daniel Chur, representing Esmeralda Ordonez, an 80-year-old Venezuelan woman, proved in court that Hawaii Employers' Mutual Insurance Co. failed to promptly pay a worker's compensation claim Ordonez made after her daughter died.
Ordonez' daughter, Mayra Rodriguez, 49, a tour guide with Gay & Robinson Tours, was killed in January 2005 while clearing all-terrain vehicle trails.
Under state law, Ordonez was entitled to at least $48,000 in death benefits from HEMIC. She filed the proper paperwork, despite not speaking English well and living in Venezuela. HEMIC, even after prodding from the employer tour company and its insurance agent, never followed up, Chur said.
"They decided to lay low and hope the claim would go away," Dan Chur added.
To delay the claim, rather than paying the amount owed, HEMIC demanded a hearing before the state Department of Labor, arguing the death was not covered under state law. Then the family had to endure trial in Judge Valenciano's courtroom in Lihue in September.
Luckily 80 year old Esmeralda Ordonez, living in Venezuela, found Robinson & Chur, a long standing Honolulu law firm representing injured workers who have taken on HEMIC throughout the ordeal on the hope that they may be paid if Esmeralda wins and collects money. Hawaii prersonal injury attorneys help people like Esmeralda every day. They watch the slick and expensive television advertisements of HEMIC and listen to Governor Lingle and the Insurance Commissioner Schmidt put out propaganda about fake worker's claims and shake their heads. The inurance industry can control the politicians.
I hope all of you note and remember Judge Valenciano because the politicians and the insurance industry are going to go after him. Write to the Hawaii Judicial Selection Commission (JSC) and tell them that you support Judge Valenciano.
HEMIC Chief Executive Officer Robert Dove said the company is "very disappointed in the decision" and will "decide on our course of action" when the final written judgment is received. I will translate that for you: "We will continue to delay this as long as we can and will appeal or whatever else causes more delay". You know that if they can delay paying long enough Esmeralda will die.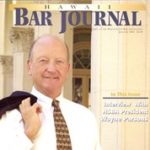 A resident of Honolulu, Hawaii, Wayne Parsons is an Injury Attorney that has dedicate his life to improving the delivery of justice to the people of his community and throughout the United States. He is driven to make sure that the wrongful, careless or negligent behavior that caused his clients' injury or loss does not happen to others.