The Wall Street Journal (1/24, Trottman, Maher) reported, "The Lilly Ledbetter Fair Pay Act, named for a woman whose attempt to sue Goodyear Tire & Rubber Co. for pay discrimination was blocked because she waited too long, is poised to be one of the first bills signed by President Barack Obama" and "if enacted, it could present a new tool for workers to fight for higher pay, and an array of challenges for businesses." Michael Eastman, executive director of labor policy for the U.S. Chamber of Commerce said, "It will be more difficult for the employer to deal with the questionable claim." He added, "Right now, employers can more easily use the statute-of-limitations defense."
Oklahoman: Labor laws are early gift for trial lawyers. The Oklahoman (1/26) editorializes, "Two pieces of legislation speeding toward President Barack Obama's desk – one probably well-intentioned, the other wrong-headed – show the eagerness of Democrats to give an early gift to one of their key constituencies, America's trial lawyers." The Oklahoman says, "It's a potential bonanza for the trial bar. Imagine television ads – perhaps crowding out spots for personal injury cases or mesothelioma claims – by lawyers eager to pursue past discrimination claims. Imagine, too, the jury awards in the oldest cases, where claimants would argue a new violation occurred with each paycheck."
Employee Free Choice Act debate likely in new Congress. The Detroit Free Press (1/26, Gallagher) reports, "For labor unions, it's payback time" and "their vehicle is the Employee Free Choice Act, or EFCA" which "would make it easier to organize unions and force companies to submit to binding arbitration for first contracts with newly formed unions. Penalties for firing union backers would be significantly increased." However, "Corporations call the bill a budget buster and want it stopped. The debate is likely to be one of the first big battles in the new Congress."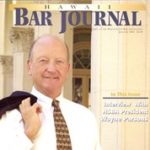 A resident of Honolulu, Hawaii, Wayne Parsons is an Injury Attorney that has dedicate his life to improving the delivery of justice to the people of his community and throughout the United States. He is driven to make sure that the wrongful, careless or negligent behavior that caused his clients' injury or loss does not happen to others.