[update August 14, 2013 5 p.m. EST]
Mugabe is a ruthless dictator in Africa who probably just stole an election. Hillary just gave a speech in San Francisco where she called on our citizens to be vigilant about voter rights. She singled out lawyers and asked us to get involved. Hillary, I hear you and I plan to get involved.
Most of us think of our country as being the major advocate around the world for democracy. If I am getting it right, U.S. citizens want individual citizens in all of the countries of the world to be able to vote for their leaders in free and fair elections. We don't like it when powerful politicians, like Mugabe in Africa, manipulate the system to stop the other side from having access to the ballot box. Voter ID laws are being passed in several states by powerful forces that don't want to win elections in a fair contest and hope to stop those who would vote against them from having access to a ballot. I am supporting the VoteRiders national Voter ID Clinics as a way of countering these un-American voter ID laws.
Why would any American tolerate a voter ID law that sets up bureaucratic barriers to voting for poor people, disabled veterans, senior citizens and many other Americans? Sick and tired of the politics in Washington? Well, then voter ID laws are going to make you feel really bad. These laws, spurred by the United States Supreme Court decision weakening our laws on voting, make it nearly impossible for many people in our country to get to the ballot box. Do you think that we should have voting only by certain types of Americans? Should voting require a college education? Should it require that you come from a known family without any divorces, adoptions, foster care, name changes or other circumstances such as some form of disability?
I am a lawyer. I passed the bar in 1975 which if I count right means I have been going into the courthouse for 38 years with an American citizen beside me who was seeking justice. I present cases to juries comprised of American citizens, who are not beholden to anyone in power, or otherwise, and who as a group vote about the issues presented to them in a dispute filed in court.  It is a beautiful and fair system, and it involves voting.  Voting in elections is just as important. I find it irritating when the politicians manipulate access to the ballot box.  Some politicians would like to make it hard for the other side to vote.  That is what is happening with the new voter ID laws. In the report in The San Jose Mercury News, Hillary asked lawyers to get involved with this because we do understand democracy and are experts in the law:
SAN FRANCISCO — Former Secretary of State Hillary Clinton urged the Obama administration, Congress and the nation's lawyers to work together to protect Americans' voting rights, now besieged after a recent U.S. Supreme Court ruling.
I am committed to work with the non-partisan VoteRiders to make every American's vote count.
North Carolina has just put the most onerous such law into effect. According to a Huffington Post news story on the law:
Even among the voter laws in other states, North Carolina's stands apart.Mainstream election experts have panned the proposal, calling it the most sweeping anti-voter law in the country.

For Jay Delancy, though, it doesn't go far enough. Delancy, a retired Air Force office[r] and the head of a group called the Voter Integrity Project of North Carolina, is one of the state's best-known activists in the campaign against fraud and a proponent of even stricter election rules, like ending early voting altogether. Last year, he repeatedly challenged the validity of the state's voter rolls, at one point claiming that nearly 30,000 registered North Carolina's voters were actually names of deceased people.

A state investigation eventually undermined this claim, and Delancy now admits that concerns about counting dead people as voters are "greatly exaggerated." But he remains adamant that voter fraud is pervasive, and although he has little evidence to back this up, he hopes the new rules will make it easier for groups like his to catch people cheating at the polls.
VoteRiders will help any voter, from any party, vote. I plan to  work on Voter ID Clinics to help people vote. I hope trial lawyers across the country will join this effort and support VoteRiders in the key states where voter ID laws are blocking Americans from voting. You don't have to be a lawyer to understand democracy.  Fixing American politics may find a good starting place in making sure that every American can vote. It seems that politicians don't think we're paying attention. I think the public is about ready to stand up and be heard.
Keep your eyes end ears alert for a VoteRiders Voter ID Clinic in your town. Houston will be having one in September. Stay tuned, this is just the beginning.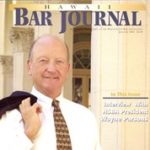 A resident of Honolulu, Hawaii, Wayne Parson is an Injury Attorney that has dedicate his life to improving the delivery of justice to the people of his community and throughout the United States. He is driven to make sure that the wrongful, careless or negligent behavior that caused his clients' injury or loss does not happen to others.