My dad died 10 years ago at the age of 94. His name was Karl Alfred Parsons and he taught physics and astronomy at Eastern Michigan University most of his life. When he was a boy he wanted to be a surgeon but the Great Depression altered his course and he had to settle for a less expensive career.
Words never seem to reach the places that hold the feelings that a son and a father share. I know that I am not eloquent enough to capture the essence of the real connection that I had with my dad. There is something magical and subtle and universal about fathers and sons and I suspect that we all share some of those feelings. For this Fathers Day I'll share the words of one of my favorite writers and poets, William Stafford:
Father and Son
No sound – a spell – on, on out
where the wind went, our kite sent back
its thrill along the string that
sagged but sang and said "I'm here!
I'm here!" – till broke somewhere,
gone years ago, but sailed forever clear
of earth. I hold – whatever tugs
the other end – I hold that string.
– William Stafford – from The Way It Is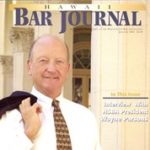 A resident of Honolulu, Hawaii, Wayne Parsons is an Injury Attorney that has dedicate his life to improving the delivery of justice to the people of his community and throughout the United States. He is driven to make sure that the wrongful, careless or negligent behavior that caused his clients' injury or loss does not happen to others.