The People's Law School (PLS) program provides everyone in the community with access to real lawyers who can talk about practical topics and answer questions about subjects that are important in citizens' lives. In Hawaii the People's law School program was begun in 1987 by Wayne Parsons through the Consumer Lawyers of Hawaii organization
A family law lawyer might talk about what actually happens when someone wants to get divorced. A lawyer practicing employment law might talk about what rights an employee has in the workplace. A lawyer experienced in condominium association law might talk about the issues she deals with in her practice.
The PLS program strives to educate "legal consumers" about their rights and the legal system. When it comes to a citizen's legal rights, he or she must know what to look for and what to look out for. Plus, the program gives PLS students a better understanding of the legal stories that they read about in the newspaper or hear about on television.
The PLS program began 22 years ago in Michigan and is sponsored by ATLA and state trial lawyer associations. ATLA members represent injured consumers and know the public's great need for access to lawyers. Those lawyers participating in PLS are prohibited from soliciting business.
This year the program will be introduced at Farrington High School in conjunction with the Hawaii State Bar Association's efforts to "adopt" the farrington complex of schools. Various programs will be instituted for the students and a Peoples' law school will be implemented for adults in the fall semester.
People are hungry for information about their rights and they appreciate hearing from real lawyers and judges. "real law for real people" is how we describe the PLS program. The lawyers and judges who taech in the program enjoy sharing their knowledge and experience with class. The program helps dispel the many myths about lawyers and what goes on in the courts.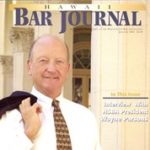 A resident of Honolulu, Hawaii, Wayne Parson is an Injury Attorney that has dedicate his life to improving the delivery of justice to the people of his community and throughout the United States. He is driven to make sure that the wrongful, careless or negligent behavior that caused his clients' injury or loss does not happen to others.