At a Thursday town hall meeting in Rio Rancho, New Mexico, President Obama called for passage of a bill that seeks to curb practices from credit card companies that some deem "abusive." The story is receiving coverage — but not top billing — from major print media outlets this morning. The CBS Evening News (5/14, story 4, 2:25, Glor), one of the two network newscasts to report on the story last night, noted that along with his expressing his support for the legislation, the President also "scolded Americans who run up more debt than they can handle, reminding them, quote, 'it's not free money.'" CBS (Cordes) that Obama "charged credit card companies with pulling a bait and switch." Obama was shown saying, "Now fees silently appear. Payment deadlines suddenly move. Millions of card holders have seen their interest rates jump in the past six months." The President "called for a crackdown on the industry, just as the Senate is poised to deliver it."
Like CBS, the AP (5/14, Superville) reports that Obama's "populist appeal also included a stern warning to shoppers whose eyes are bigger than their budgets." Said Obama, "There's no doubt that people need to accept responsibility. … This is not free money — it's debt and you should not take on more than you can handle." The AP adds that "Obama's audience…included several dozen other people who have expressed frustrations in letters and e-mails to the president about their credit card companies."
NBC Nightly News (5/14, story 5, 2:25, Myers) noted the President "criticized universities, some of which get fees when students sign up for cards." The President was shown saying, "We also need to clean up practices at universities to protect students from getting stuck in debt before they even get started in life. That's the truth." CNN's Situation Room (5/14, Malveaux) ran footage of Obama saying, "Enough's enough. It's time for strong, reliable protections for our consumers. It's time for reform." The New York Times (5/15, Baker), The Politico (5/15, Martin), the Washington Post (5/15, Shear, Trejos,), the Wall Street Journal (5/15, Weisman,), the Los Angeles Times (5/15, Nicholas) all cover the story.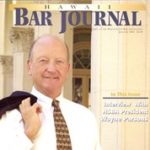 A resident of Honolulu, Hawaii, Wayne Parson is an Injury Attorney that has dedicate his life to improving the delivery of justice to the people of his community and throughout the United States. He is driven to make sure that the wrongful, careless or negligent behavior that caused his clients' injury or loss does not happen to others.