Forbes (2/5, Fisher) reported, "Cases recalling the commercial struggles of the early United States, the fate of 1.2 million acres of Hawaiian real estate and the question of whether judges should be disqualified from hearing suits involving campaign supporters are all on the Supreme Court's docket this spring" and "it's not a blockbuster session like last fall, when the high court handed a big victory to Exxon Corp. over punitive damages and took up the contentious issue of preemption, or the case considering whether federal regulations can snuff out lawsuits based on state concepts of tort law." However, "this year's cases will test whether Chief Justice John Roberts, a Bush appointee, can continue to forge majorities to roll back expansive interpretations of federal regulations — unless they benefit business."
Chief Justice concerned about increasing partisanship of judicial nominating process. The AP (2/5) reported, "U.S. Supreme Court Chief Justice John Roberts said he is troubled by the increasingly politicized nature of the Senate judicial confirmation process" and "during a question-and-answer session Wednesday after an address at the University of Arizona's law school, Roberts was asked whether growing partisanship in the confirmation process poses a significant threat to the independence of the judiciary." He said, ""The courts as a whole are very concerned about partisanship, politicization, seeping into the judicial branch."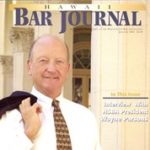 A resident of Honolulu, Hawaii, Wayne Parson is an Injury Attorney that has dedicate his life to improving the delivery of justice to the people of his community and throughout the United States. He is driven to make sure that the wrongful, careless or negligent behavior that caused his clients' injury or loss does not happen to others.