The Wall Street Journal (6/10, A5, Koppel) reports, "The U.S. Supreme Court's decision this week calling for judges to stay out of cases involving big political donors confronts the growing role of money in the U.S. judicial system." The Journal adds, "Political donations to judicial candidates at the highest state courts have soared in recent years, creating concerns that money is eroding public confidence in the system." Opponents of that system "say states should enact such reforms as requiring taxpayers to underwrite judicial races" or "scrap contested elections in favor of appointing judges to the bench, which is the practice of some states."
Massey ruling seen as giving states ability to develop stringent recusal standards. The Charleston Gazette (6/9, Knezevich) reported that campaign finance reform supporters in West Virginia "hope the U.S. Supreme Court's decision involving state Supreme Court Chief Justice Brent Benjamin will spur action on public-finance legislation and changes to the state's donor disclosure rules." Bert Brandenburg, director of the national organization Justice at Stake, said, "The Supreme Court opinion left the door open for all states to develop more stringent recusal standards." He added, "Now [it is] up to each state to fill in the finer points."
Washington Post weighs in on Massey ruling. The Washington Post (6/10) editorializes, "The Supreme Court ruled this week that a victorious judicial candidate who receives extraordinary assistance from a donor should step aside from deciding cases that are 'pending or imminent' in which the donor has a substantial stake." The Post says, "The decision raised more questions than it answered, but it should serve as a call for states to tighten judicial ethics standards and rethink judicial elections altogether." Concluding, the paper says, "States should consider abandoning judicial elections for a merit selection system that better insulates judges from the corrosive influences of money and politics."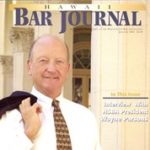 A resident of Honolulu, Hawaii, Wayne Parson is an Injury Attorney that has dedicate his life to improving the delivery of justice to the people of his community and throughout the United States. He is driven to make sure that the wrongful, careless or negligent behavior that caused his clients' injury or loss does not happen to others.