The "Workplace Goods Job Growth and Competitiveness Act of 2005," has absolutely nothing to do with job growth or corporate competitiveness. Under the guise of a broad statute of repose, this legislation stacks the deck against almost every American employer in favor of the manufacturers and sellers of machine tools and other durable goods used in the workplace. And it closes the courthouse door to every worker covered by workers' compensation who is injured by a defective workplace product more than 12 years old. All claims for personal injury or death are barred.
Today, when defective workplace products injure workers or cause property damage, the employer that suffered the loss could reclaim his workers' compensation cost from the manufacturer or seller of the defective durable good. H.R. 3509 eliminates this right to recover for all businesses that suffer these types of losses, shifting costs from negligent manufacturers onto blameless business owners.
THE BILL HURTS WORKERS.
H.R. 3509 Will Limit the Rights of Injured Workers. The bill would completely cut off the right of workers to hold negligent manufacturers and sellers accountable for injuries caused by defective equipment that is more than 12 years old, regardless of how long the product was built to last. Many items today—industrial machinery, tractors, construction tools—are made and marketed to last longer than 12 years. Workers in the following occupational categories are particularly vulnerable:
o Construction
o Mining
o Drilling
o Manufacturing
o Farming
o Forestry
o Firefighting
H.R. 3509 Eliminates Non-Economic Damages. The bill applies to injured workers who are covered by workers' compensation. For these workers, recovery would be drastically limited: they would only be able to recover the actual funds they have lost—and nothing more. That means covered workers who have lost fingers or arms or who have lingering brain damage or can no longer walk are unable to recover anything for the very real losses they have suffered.
H.R. 3509 Puts Business Ahead of Injured Workers. While completely cutting off the claims of workers injured by defective workplace products, the bill would allow businesses who suffer business interruption to fully pursue claims against the manufacturer or seller of the defective product, no matter the age of the product. Why should business claims be more valued than claims for injury or death?
THE BILL HURTS BUSINESS.
H.R. 3509 will increase business' workers' compensation costs and premiums: This bill makes workers' compensation the sole means for compensating a worker injured by a defective workplace product that is older than 12 years. This bill also extinguishes a business's right to recover (subrogate) its workers' compensation deductible or if the business is self insured, its entire workers' compensation payout. Shifting the costs from manufacturers and sellers to employers means increased premium costs for all businesses, since workers' compensation would be solely responsible for the new cost of compensating all workers injured by defective products older than 12 years. H.R. 3509 adds more costs to an already beleaguered workers' compensation system, which will be borne by every American business for the benefit of a few special interests.
H.R. 3509 favors manufacturers and sellers over other businesses. The bill creates additional costs for businesses by eliminating the right to recover for property damage caused by a defective workplace product. For example, if a 13 year old machine explodes and causes damage to a workplace, a small business owner will no longer be able to recover the costs of the repairs to the business' infrastructure. The bill unfairly benefits a few at the expense of others.
THE BILL PREEMPTS STATE LAW.
H.R. 3509 preempts state law. The bill preempts all state laws that establish a statute of repose for workplace products-statutes that specify how old is too old with respect to product liability claims. There is not a shred of evidence that federal action is needed. That is, no evidence that cases involving older products are clogging the courts or affecting American competitiveness.
H.R. 3509 preempts claims for injuries that have already occurred. The bill applies to any claim filed after the effective date of the act even if the injury occurred before the date of enactment. Thus, it really preempts state statutes of limitations-laws that specify the amount of time available for filing a case. Interestingly, the bill, in a completely separate subsection, provides a one year extension to file for claims cut off by the effective date, providing a constitutionally impermissible alteration of state law under the Supremacy Clause.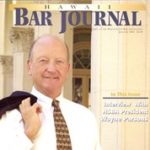 A resident of Honolulu, Hawaii, Wayne Parson is an Injury Attorney that has dedicate his life to improving the delivery of justice to the people of his community and throughout the United States. He is driven to make sure that the wrongful, careless or negligent behavior that caused his clients' injury or loss does not happen to others.