The AP (8/13, Freed) reported, "Bank of America Corp. said that as of Thursday it will stop requiring that disputes with its credit card holders and banking and lending customers be settled by binding arbitration, opening the door for class-action and other lawsuits to push up the bank's legal costs." Bank of America spokeswoman Shirley Norton "acknowledged that the bank may face more lawsuits now, but said Bank of America is hoping to work out most disputes directly with customers." David Robertson, "publisher of the Nilson Report, which tracks the credit card industry, said he believes Bank of America's decision was a result of" the recent decisions by the National Arbitration Forum and the American Arbitration Association-two major groups in the field-to stop handling arbitration disputes, as well as by increased "congressional scrutiny."
The Bloomberg News (8/13, Mildenberg) reported, "The change as of today also covers auto, recreational vehicle and marine loans, spokeswoman Betty Riess said. The bank wouldn't disclose how many arbitration cases occur annually, though the number of credit-card disputes handled through arbitration has declined sharply since mid-2008, she said."
The Wall Street Journal (8/14, C3, Sidel) reports that Bank of America's move, which takes effect immediately, is not limited to debt collection, and includes all consumer disputes. Citigroup, which does not typically employ arbitration, said it was monitoring the situation.
Reuters (8/13, Stempel) reported that it is not clear whether other major card issuers would follow Bank of America's lead.
In a blog at the Wall Street Journal (8/13) reports, Dionne Searcey noted that Bank of America still believes arbitration is a fair dispute-resolution technique, but made the change because many of their customers feel differently.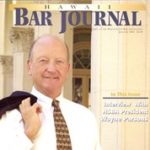 A resident of Honolulu, Hawaii, Wayne Parson is an Injury Attorney that has dedicate his life to improving the delivery of justice to the people of his community and throughout the United States. He is driven to make sure that the wrongful, careless or negligent behavior that caused his clients' injury or loss does not happen to others.