A lady who paid $4000 to a credit repair service was disappointed when they failed to repair her credit. In fact her credit card companies filed lawsuits against her and she complained to the company it took her $4000 that they had done nothing on her behalf. She finally got fed up with them and decided to take them to court.
Her first surprise was that she has no right to take them to court. How can that be you ask? Isn't this America and don't all Americans have a right to access justice through the courts? Isn't that what the three branches of government are all about? And don't we pay taxes to support an independent judiciary where we get to go before a jury of our peers or at least a judge who has been carefully selected to be neutral and impartial? Well the first thing this lady found out was that the contract she signed with the credit repair service had a clause in it in fine print that stated that she waived her right to go to court and that if she wanted to bring a claim she'd have to do it through arbitration.
So she attempted to bring a claim into arbitration which is done in a private system on a pay-as-you-go basis as as opposed to the courts where you don't have to pay the judge for his time and the juries serve as volunteers. The lady still decided to pursue her claim and settle for arbitration. All she wanted was to have this credit repair service brought to justice for taking her money and not doing anything. But then things got really weird.
She was told by the attorneys for the credit repair service that her contract with them had yet another clause which stated  that she had to arbitrate the case in a state all the way across the country from where she lived.  She couldn't simply file a demand for arbitration where she lived and get an arbitrator in her local community to decide the dispute, she was forced to file the demand for arbitration and then travel halfway across the country to have a hearing and have someone decide the claim.  For all intents and purposes the credit repair service had written a contract that made it so expensive for a customer to bring a claim against them that they were immune from being held responsible for wrongdoing.  Most people don't have enough money to engage in that battle.
The lady got a lawyer and the lawyer tried to get a court near her  to find that the contract was unfair and unenforceable and that it violated  The Cedit Reporing Act. This issue had been in various courts in the past as explained by constitutional scholar Paul  Bland of Public Justice in a recent article, Today's Arbitration Outrage: Second Circuit Says Destitute New York Resident Consumer Must Arbitrate Case in Arizona:
It probably will not surprise anyone who follows consumer law (although it would come as a surprise to nearly any actual consumer) that the defendant had an arbitration clause. What's striking is that the clause requires consumers (including the New York resident Ms. Duran) to arbitrate their claims across the country IN ARIZONA.  Now, courts have been striking down these kinds of distant forum provisions in decisions going back 20 years.  E.g., Patterson v. ITT Consumer Fin. Corp., 18 Cal. Rptr. 2d 563 (1993). But in the wake of more recent U.S. Supreme Court decisions, particularly the catastrophic Rent-A-Center, West, Inc. v. Jackson, 130 S. Ct. 2772 (2010), a lot of bad actors out there have been experimenting with how unfair they can make their arbitration clauses and get away with it.

This strategy worked pretty well for the defendants in this case. The Second Circuit required Ms. Duran to arbitrate her claim, and enforced the provision requiring it to take place in Arizona. They noted that there is a "logical flaw" and an "unusual" quality to the result, because if Ms. Duran's only remedy is to argue to the arbitrator that it's unfair and unconscionable to require her to arbitrate in Arizona, she first has to GO to Arizona to do it. Oh well, the Court explains, this is what the Supreme Court would have wanted.
That's right,  the federal 2nd Circuit appellate court said that the lady has to go to Arizona to challenge the cause that says she has to arbitrate the case in Arizona.  She can't just go to her local courthouse and use her state courts to get justice.  Paul Bland sums it up well in his article:
If bad actors can get away with making arbitration clauses increasingly grossly unfair, and all the courts just wash their hands, do a Pontius Pilate, and say "well, this may SEEM really unfair, but oh well, it's what the Supreme Court would have wanted," mandatory arbitration will have no conceivable claim to any sort of legitimacy. It will become a complete joke, an openly rigged deal.

Because saying that a poor person in New York can only get a refund of money stolen from her if she travels across the United States to begin the process of trying to get it back IS a joke, and it IS a rigged deal.
Daniel Webster is attributed to have said at the time of the American Revolution that " justice is the most important goal man on earth".  It has been a bad day for justice in America. The case is Duran v. The J. Hass Group.
Headline Image Source: http://www.flickr.com/photos/cjsorg/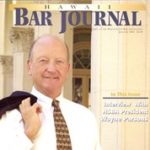 A resident of Honolulu, Hawaii, Wayne Parson is an Injury Attorney that has dedicate his life to improving the delivery of justice to the people of his community and throughout the United States. He is driven to make sure that the wrongful, careless or negligent behavior that caused his clients' injury or loss does not happen to others.