As reported in a recent news story "Some Harley Motorcycles Plagued By 'Death Wobble'", a motorcycle enthusiast was surprised when he couldn't contro;l the steering of his motorcycle at low speeds:
The Peoria biker has been riding for 40 years.

"This is my fifth Harley," Costa said.

But no amount of road experience could have prepared Costa for what happened in October along a scenic highway just south of Prescott.

"I wasn't doing anything out of the ordinary. I wasn't doing anything I hadn't done a thousand times before. I had been on that road a couple hundred times," Costa said.

Costa said his speed was about 25-30 mph when, "The whole bike started shaking. I had no idea why the bike was vibrating like that, and it wasn't a little vibrating. I never felt anything like that in my life."

"I got this thought in my head I'm going over the ravine, and I don't want to go down," Costa said.

Costa did go down and was flown to a Phoenix hospital, where he coded and then slipped into a coma. Five days later, he awoke with a quadruple compound leg fracture, eight broken ribs and a punctured lung.

His massive Harley-Davidson Road King was totaled.
Was this a case of operator error? Many times in serious motorcycle or moped crashes, the rider is dead and there are no witnesses. The police have little choice but to describe the cause of the crash as "unexplained". But is there a hidden cause of these crashes?
The mororcycle manufacturers attribute all of these crashes to operator error. As I wrote in an earlier artricle – "Have you experienced steering wobble in a motorcycle or moped?" – there are many causes of wobble. But a crash at 25 mph with an experienced rider on a smooth road is something that tends to show some problem with the bike. CBS looked into this problem and found a much deeper issue with certain Harleys:
A CBS 5 Investigation found similar incidents across the U.S. The possible equipment malfunction Costa describes has become known as the Harley-Davidson Wobble, or "Death Wobble."

A camera mounted on a Georgia state trooper's police-issued Harley shows Officer Richard Barber traveling 90 mph along an interstate. His 2007 Harley Electra Glide begins to shimmy and wobble. Eventually, Barber is able to stop the bike safely.

But a Raleigh, N.C., police officer was not so lucky. In 2002, 30-year-old Charles Paul was thrown from his Harley Electra Glide after it began to wobble. He died, and his family later settled a wrongful death suit with Harley-Davidson in 2008.
The manufacturer claims that all motorcycles and mopeds have wobble and that it does not cause crashes:
Harley-Davidson does acknowledge that its bikes are susceptible to a weave or wobble — depending on the bike's speed. But they said that this does not cause accidents, and that weave or wobble happens to other bike manufacturers, regardless if it is a Harley or not. Harley also said the wobble problem is worsened when riders add on certain parts and suggests people follow the owner's manual.
The problem is fully analyzed by a forensic engineering consultant, Mark Ezra, PhD in his article "Forensic Engineering Investigation of Motorcycle Instability Induced Crashes". His paper is a good place to start when looking at the root cause of these problems. Poor maintenance of the front steering mechanism can lead to a severe problem.
Most motorcycle and moped crashes result in serious injury or death. All owners should have their bikes checked by a mechanic who understands these problems.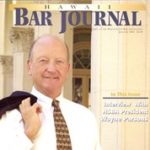 A resident of Honolulu, Hawaii, Wayne Parsons is an Injury Attorney that has dedicate his life to improving the delivery of justice to the people of his community and throughout the United States. He is driven to make sure that the wrongful, careless or negligent behavior that caused his clients' injury or loss does not happen to others.