In a news story posted in the Honolulu Advertiser on Sunday another motorcycle injury is reported
(Man in critical condition after motorcycle accident inwww.honoluluadvertiser.com/article/20090928/BREAKING01/309280013/Man+in+critical+condition+after+motorcycle+accident+in+Ewa+Beach Ewa Beach). The incident occurred on Papipi Road near Laguna Loop in Ewa Beach and the man was reported to be in critical condition after the 12:30 pm incident. This is another in a long series of injury and death crashes involving motorcycles throughout the year in the Islands. According to initial reports:
HFD Capt. Earle Kealoha said when emergency crews arrived they found the unidentified man lying in the road. He was believed to be in his 30s.

Kealoha said it was not obvious which way the motorcycle was headed, and witnesses said the man may have swerved to avoid a car coming out of a side street.
There is a tendency to blame the motorcycle driver for these incidents, probably a throw-back to concepts of The Hell's Angels and motorcycle gangs. But in fact many of Oahu's bikers stress safety, are high skilled in operating a motorcycle and are victims of automobile drivers who don't see the smaller vehicle.
I have written other articles on motorcycle accidents in Hawaii and the statistics are grim this year.
Hawaii Motorcycle Chronicles: Another Death On Friday
Wayne Parsons | June 09, 2009 7:32 PM
Automobile, Motorcycle and Pedestrian Deaths On Oahu Continue to Rise
Wayne Parsons | April 20, 2009 1:53 AM
The facts of this Papipi Road crash are unknown. If you know anything about the incident please report it to the police or leave a comment below. Our best wishes for quick healing to the driver.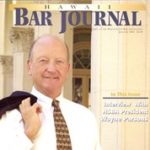 A resident of Honolulu, Hawaii, Wayne Parsons is an Injury Attorney that has dedicate his life to improving the delivery of justice to the people of his community and throughout the United States. He is driven to make sure that the wrongful, careless or negligent behavior that caused his clients' injury or loss does not happen to others.