Hawaii is a great place to ride motorcycles and mopeds. But it is also a place where the roads are crowded, drivers are distracted (now more than ever with rampant cell phone use resulting in more Distracted Driving). Other divers don't "see" motorcycles and mopeds even though they are clearly visible. And some motorcycle and moped drivers are not safe drivers. They go too fast and they zip in and out of vehicular traffic. Almost every day on the H-1 Freeway as I drive to and from work I see a motorcycle flying by in the tight space between lanes or on the shoulder.
That motorcycle or moped driver may be saying to themselves that they know what they are doing and can protect themselves from harm through their skill. Or they may think to themselves that if another driver doesn't see them that it is that driver's fault. Or they may realize that they could be killed or paralyzed in a crash that may happen, but they are willing to take that risk. There are many rationalizations for high risk behaviors but few people go to a psychologist or counselor to seek insight into their risk-taking behaviors.
What we know in Hawaii is that in a collision between a motorcycle, moped or bicycle, with a car or a truck, the two wheel driver usually is catastrophically injured or dies and the driver of the truck or car suffers no harm. And the families and friends of the motorcycle driver – or moreso, the passenger's family – suffer the loss of a loved one, often huge medical expenses for caring for a person who is crippled, or has a serious brain injury. And the taxpayers ultimately pay for this through increased publicly funded health care or even institutionalization.
According to the latest data from the National Highway Traffic Safety Administration (NHTSA), in 2009, 4,462 motorcyclists were killed in traffic accidents and another 90,000 were injured. These numbers are shockingly high: just a decade ago, in 2000, there were less than 3,000 fatalities and 58,000 injuries.
But the safety trend is finally moving in the right direction. After several years of constantly increasing motorcycle accident injuries and fatalities, since 2008, the numbers have begun to go down. And, when the fatality and accident statistics are considered in comparison to the number of registered motorcycles on the road and the number of miles traveled by those motorcycles, we are finally at the lowest rates in a decade.
Perhaps some of the hope for improvement is due to the great work of Cora Speck and the dedicated team of doctors at the Trauma Center through The Queen's Medical Center, Injury Prevention Outreach & Education Center and the wonderful work of Kari Benes at the Hawaii Department of Transportation where the Safety Council attempts to reduce death and injury on Hawaii's roads. Motorcycle helmet safety is a major focus.
Still, motorcycle travel is among the more dangerous, and when accidents do happen, the likelihood of injury or death is significantly higher as compared to regular motor vehicle accidents. This means that there is still much work to be done to prevent accidents and to improve occupant protection when accidents do occur. A one-year YEAR study conducted by NHTSA attempted to identify some trends in motorcycle accidents. Here's what they found:
Among all age groups, the 20-29 age group had the largest number of motorcycle fatalities
Approximately 25% of fatally injured motorcycle operators are improperly licensed
Helmet use among fatally injured motorcycle riders is at approximately 50%
Motorcycle rider fatalities during weekends are twice the fatalities that occur during weekdays
70% of all fatalities occur on undivided roadways
Speeding is a contributing factor in nearly 1/3 of motorcycle rider fatalities
Alcohol continues to play a role in motorcycle fatalities. In 2009, 30% of all fatally injured riders had a BAC of at least .08 and another 7% had a BAC between .01 and .07.
This is graduation month in Hawaii and I know that I will see news of motorcycle and moped crashes as the roads are filled with celebrating seniors and their classmates. Being "aware" may save a family from that tragic knock at the door or call from the hospital that a child is dead or in critical condition. So my suggestion is that if your child is going to ride a moped, motorcycle or bicycle this month, a good graduation present is a helmet to keep them safe.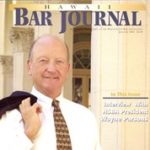 A resident of Honolulu, Hawaii, Wayne Parsons is an Injury Attorney that has dedicate his life to improving the delivery of justice to the people of his community and throughout the United States. He is driven to make sure that the wrongful, careless or negligent behavior that caused his clients' injury or loss does not happen to others.