Gov. Neil Abercrombie and Sen. Clayton Hee (D – District 23) were heroes today. No, they didn't rush into a burning building and pull out injured people, and they didn't rescue someone from the dangerous surf that has been pounding the South shore this week. But make no mistake they saved lives in ways that you can't capture in photographs or videos. While we hear and see on a daily basis complaints about politicians _ and Gov. Abercrombie and Sen. Hee are extremely effective politicians _ I stand today and applaud them for using their political skills to save lives with the new seatbelt law the Gov. Abercrombie signed and that is effective today May 20, 2013.
The room was full of police officers, the medical and safety community, and Gov. Abercrombie signed Senate Bill 4 into law in their voice that said seatbelts save lives and prevent injuries. Senate Bill 4, requires that all front seat and back seat passengers wear seatbelts. In a dramatic and heartfelt speech a police officer talked about coming to the scene of over 500 tragic motor vehicle crashes and seen the tragedies at their inception the could have been prevented if the seatbelt was used. We cringed as he described with some drivers think of as humorous techniques to pretend to be wearing a seatbelt like buckling the belt behind your back. He pointed out that the car technology assumes that the driver is wearing a seatbelt and modifies the airbag protocol and other safety protocols in the vehicle. As he said to the group today at the state capital, "when you try to game the system bad things happen".
I have heard Gov. Abercrombie speak about safety and injury prevention in the past and I am always struck by how eloquent and clear he can be when looking at the day-to-day problems which are taking lies in creating tragedies in Hawaii. Today was no exception. The governor nailed it:
Hawaii is putting safety first on our roadways with the enactment of our state's universal seat belt law; this measure closes the gap in protecting all passengers riding in a motor vehicle .
The fine for violating the law is $92 and the police in attendance wanted it known that the fine is not intended to" punish" but is intended to make people aware of this law so that they can change their behavior and make proper decisions for safety and preventing injuries to themselves and the ones they love. Representatives of the United States Department of Transportation travel to Hawaii to attend the signing and to add their support to the efforts of Sen. Hee and Gov. Abercrombie as well as the entire Hawaii legislature for enacting this legislation. Dr. David Manning from the USDOT noted that Hawaii has been a leader in efforts to make drivers safer in the Hawaii had one of the highest seatbelt use statistics in the country. We should all be proud of that but the police officers reminded us that they issued over 8,000 tickets last year for failure to you seatbelts. Each one of those people is a potential statistic of tragedy and family disaster.
Big Island Now picked up on the story on the Big Island and reported:
The governor's office issued a statement citing statistics from the National Highway Safety Administration which said that seat-belt restraints for all occupants increases their safety by as much as 45%.

"Seat belts save lives," Senator J. Kalani English, chair of the Senate Committee on Transportation and International Affairs, said in the statement announcing the signing.

"The enactment of this measure reinforces what many of us already know, that the importance of seat belt use can't be ignored," English said. "By taking a few moments to buckle up, we can each play a vital role in preventing an unnecessary tragedy."
How important is the safety of your children, your spouse, your family and friends? Is there anything more important to any of us than than keeping them safe? Of course not. That is why this is such a good and great law.
When I looked around the room at the signing today I watched Sen. Hee smile as he heard the testimony that thanked him for being a champion of safety and injury prevention. Children in particular are more vulnerable to injury in the backseat and have always been required to wear seatbelts. But adults also become projectiles and weapons in a collision and crash into the front seat occupants and suffer very serious injuries themselves. Three students in the Roosevelt High School graduating class, Tyra, Daniel and Christy attended the signing with their seatbelt sign showing that Hawaii's teens are involved with safety and injury prevention, too. That's a good sign for the future.
The group behind the scenes are the safety and injury prevention community in Hawaii from the Department of Health and the DOT and various community groups. They are an invisible group to most of us but they toil to save lives and address safety issues. They were out in force today at the Governor's office and they were recognized and appreciated. These injury prevention and safety professionals supplied the facts and injury statistics and common sense that supported and encouraged the legislature and the governor to move forward on this legislation. Dr. Linda Rosen and Kari Benes from the Department of Health were instrumental and many others from the safety community have been working for years to improve the safety laws. The Queen's Medical Center Trauma Center was there as usual represented by Cora Speck, the Injury Prevention and Safety Coordinator for the Trauma Center. I will write more about these folks in future columns.
Disappointed in politicians?If so, can you put that aside for a bit and send a thank you to Sen. Hee and Gov. Abercrombie and the many people who have dedicated their lives in Hawaii to keeping us safe. Democracy is functioning well and I think we can all reflect that things may not be as bad as it seems when we turn on the news. And I would note that the news media was there today in force, and is doing a great service in bringing this information to the people of Hawaii. The media, also frequently criticized, plays a key role in creating awareness of the importance of seatbelts. I applaud them for fulfilling their important role to the community in getting the word out.
Drivers will be cited since they are responsible for making sure passengers buckle up. And Hawaii's distracted driving law is now uniform throughout the Islands.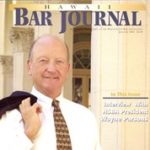 A resident of Honolulu, Hawaii, Wayne Parsons is an Injury Attorney that has dedicate his life to improving the delivery of justice to the people of his community and throughout the United States. He is driven to make sure that the wrongful, careless or negligent behavior that caused his clients' injury or loss does not happen to others.