Public Citizen reports that:
"The 16-year wait for a national database that will allow car buyers to determine whether a vehicle has been stolen or rebuilt after a wreck is almost over. In an emphatic victory for consumers, U.S. Judge Marilyn Hall Patel ruled Monday that the U.S. Department of Justice (DOJ) has until Jan. 30 to make this information available to consumers."

Deepak Gupta, Attorney, Public Citizen
The National Motor Vehicle Title Information System was being stalled for implementation by the Bush Administration. They have consistently interfered with consumer rights and it took a lawsuit by Public Citizen, Consumers for Automobile Reliability and Safety and Consumer Action against the Department of Justice and Judge Patel enforced the law on behalf of all Americans.
This is an important reminder of how the courts are the protectors of the American people when political influences defy the law. Please be vigilant to defend the courts and the sytem of justice that keeps their doors open to all Americans.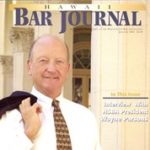 A resident of Honolulu, Hawaii, Wayne Parson is an Injury Attorney that has dedicate his life to improving the delivery of justice to the people of his community and throughout the United States. He is driven to make sure that the wrongful, careless or negligent behavior that caused his clients' injury or loss does not happen to others.