Thanks to the Honolulu Police Department (HPD) for organizing the following Pedestrian and Driver Safety Tips. In light of the huge number of pedestrian injury and death incidents in Honolulu this year (see my recent article – Pedestrian Crosswalk Fatality In Kalihi Adds To Alarming Statistics by Wayne Parsons)
Pedestrian Safety Tips
Driver Safety Tips

Always cross within marked crosswalks or at street corners.
Look left, right, then left again for vehicular traffic before stepping onto the roadway.
Yield to any approaching vehicles while crossing even if you have the right of way. Oncoming vehicles may reach you faster than you anticipate.
Make eye contact with drivers to ensure that they see you.
Keep to the right of the crosswalk, and be patient and alert when crossing the street.
Walk across the street, never run.
Obey all traffic signals and use the pedestrian signal button at intersections.
Cross the street only when the green "Walk" light is on. Do not begin crossing if the red "Don't Walk" or upraised hand is flashing or steady.
Be especially careful of vehicles that may turn right on red or turn left at an intersection. Drivers may be busy looking out for other vehicles instead of pedestrians.
If buses or other large vehicles are blocking your view, wait for them to pass before crossing. These vehicles may also be blocking the view of drivers in the other lanes.
Do not walk behind a vehicle that has its reverse lights on.
Walk on the sidewalk. If there is no sidewalk, walk on the left side of the roadway so you can see oncoming traffic.
Stand at least ten feet away from the curb while waiting at bus stops.
Do not allow your children to walk near roadways or cross the street unsupervised. Parents should accompany their young children until they are sure that their children can cross the street safely.

Stay focused and alert for pedestrians.
Stop for a pedestrian in a crosswalk when the pedestrian is crossing on your half of the road.
Stop for a pedestrian in a crosswalk when the pedestrian is approaching from the opposite half of the roadway and is close enough to be in danger.
Stop for a pedestrian in a crosswalk while executing a right or left turn and the pedestrian is in the half of the roadway that your vehicle is entering.
Look out for pedestrians that may be hidden from view by other vehicles that have stopped.
Be extra vigilant for pedestrians when driving at dawn or dusk.
Anticipate the difficulties of the elderly or young children who are crossing the street.
Obey all traffic laws and pay attention to traffic control signals and posted signs.
Hawaii averages 28 pedestrian fatalities each year and 560 injuries from being struck by motorists. Hawaii is 4th highest pedestrian fatality rate, per capita, in the United States. The majority of the fatalities occurred because people failed to use crosswalks and did not cross at intersections. The most common reason why pedestrians were struck is because drivers failed to yield the right of way or were inattentive.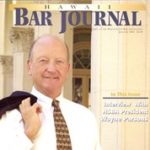 A resident of Honolulu, Hawaii, Wayne Parson is an Injury Attorney that has dedicate his life to improving the delivery of justice to the people of his community and throughout the United States. He is driven to make sure that the wrongful, careless or negligent behavior that caused his clients' injury or loss does not happen to others.