Honolulu what is happening here? Another woman was struck down in a crosswalk Tuesday morning? The epidemic of crosswalk injuries and deaths seems out of control to me.
According a KHNL news report Tuesday morning at the corner of Piikoi and King Streets a 23 year old woman was struck by a vehicle driven by a 65 year old woman. The victim went under the car and was trapped their for several minutes. The 23 year old victim is in critical condition in Queens Medical Center.
The police do not know why the 65 year old woman did not stop for the pedestrian and the offending driver was also taken to the hospital for observation.
I have reported several other similar pedestrian injuries I represent victims of this senseless carnage. Is it speeding? Are pedestrians taking unwarranted risks? What is it Honolulu? I have no answers.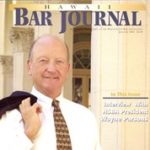 A resident of Honolulu, Hawaii, Wayne Parson is an Injury Attorney that has dedicate his life to improving the delivery of justice to the people of his community and throughout the United States. He is driven to make sure that the wrongful, careless or negligent behavior that caused his clients' injury or loss does not happen to others.