Did you see a fire hydrant showering Kalanianaole Highway on Sunday morning? Am automobile left the road and hit a man in his 60s walking on the sidewalk on Kalanianaole Highway in Niu Valley yesterday afternoon, according to police.
According to a report in the Star Bulletin:
The man, who was not identified yesterday, was in critical condition after the 11:40 a.m. accident. Police said a 2003 Toyota four-door sedan, driven by an 89-year-old Hawaii Kai man, was Koko Head-bound in the lane next to the sidewalk when it jumped the sidewalk, hit a tile wall and a hydrant before striking a man at about 11:40 a.m.
The victim was taken to the Queen's Medical Center in critical condition with serious personal injuries including severe head and body injury. The cause of the accident is under investigation and the Police do not think that speed, drugs and alcohol were factors.
In earlier articles I have written about pedestrian injuries at cross walks in "Hawaii Pedestrian's Face Crosswalk Threats" and about Ikaika Andrade who was was seriously injured in Maile recently as he walked along Farrington Highway, "Pedestrian Critically Injured After Being Hit By Car On Farrington in Maili". Pedestrian personal injury from automobile accidents has been a major focus of police efforts to find ways to reduce these collisions and the resulting personal injuries and wrongful death.
What do you think Hawaii? Is there an unusual number of pedestrian injuries and death from automobiles leaving the roads?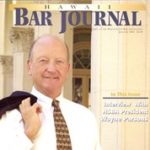 A resident of Honolulu, Hawaii, Wayne Parson is an Injury Attorney that has dedicate his life to improving the delivery of justice to the people of his community and throughout the United States. He is driven to make sure that the wrongful, careless or negligent behavior that caused his clients' injury or loss does not happen to others.