Hawaii high school students will be celebrating graduation this month and into June and the text messages and Tweets will be flying through cyberspace each night. If, on May 26th for instance at 8 pm , a high school student composes and sends a text that takes 10 seconds and the recipient, also at the wheel of a car reads and responds, taking another 10 seconds that will equate to each car traveling 73.33 feet with a blindfolded driver. Other drivers and pedestrians and any passengers in the cars will be at risk for those 10 seconds and the distance that defines this out-of-control missile is146.66 feet. That is about fifty yards or half the length of a football field. If at that time 1,000 high school students are Tweeting or Texting (or Googleing or emailing, etc.) and 1,000 are receiving while operating their cars, that is nearly 300,000 feet of Hawaii in Hawaii with blind drivers. That amounts to 56 miles of Hawaii roads with blind drivers for 20 seconds. .The average person glances at their cell phone 150 times per day.
Are we talking about matters of convenience? Is this about whether we should ask drivers – or "make" drivers give up the "convenience of chatting or texting while driving? If anyone thinks this is a matter of convenience, the statistics from the National Highway Traffic Safety Administration (NHTSA) in "Distracted Driving 2009" paint a grim picture of death and injury and ruined lives:
.In 2009, 5,474 people were killed on U.S. roadways and an estimated additional 448,000 were injured in motor vehicle crashes that were reported to have involved distracted driving (FARS and GES).
Of those people killed in distracted-driving-related crashes, 995 involved reports of a cell phone as a distraction (18% of fatalities in distraction-related crashes).
Of those injured in distracted-driving-related crashes, 24,000 involved reports of a cell phone as a distraction (5% of injured people in distraction-related crashes).
Sixteen percent of fatal crashes in 2009 involved reports of distracted driving.
Twenty percent of injury crashes in 2009 involved reports of distracted driving.
The age group with the greatest proportion of distracted drivers was the under-20 age group – 16 percent of all drivers younger than 20 involved in fatal crashes were reported to have been distracted while driving.
Of those drivers involved in fatal crashes who were reportedly distracted, the 30- to 39-year-olds had the highest proportion of cell phone involvement.
In 2011 the statistics continued to be grim according to the NHSTA:
Each day, more than 15 people are killed and more than 1,200 people are injured in crashes that were reported to involve a distracted driver.1 Distracted driving is driving while doing another activity that takes your attention away from driving; these activities can increase the chance of a motor vehicle crash.
In an article in the New York Times, Keeping Eyes on Distracted Driving's Toll by JANE E. BRODY
Published: April 11, 2011, it was pointed out that studies have shown that using a hands free device, thought by many to be safe, is the equivalent of driving with an alcohol level of 0.8, the level of drunk driving in Hawaii. Journalist Brody goes on to show that research has demonstrated that putting on make-up, eating and other activities in a car can amount to dangerous distracted driving..
So let's do something about it. The organizations EndDD.org, NODD.org and 60 for Safety have been working together raise awareness in the public and especially among high students. Check out their websites for these programs and if you are a Hawaii high school Principal, teacher, student or parent, ask for a presentation from me to the student body or any group of students or teachers. Let's save some lives in Hawaii this graduation season.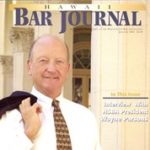 A resident of Honolulu, Hawaii, Wayne Parson is an Injury Attorney that has dedicate his life to improving the delivery of justice to the people of his community and throughout the United States. He is driven to make sure that the wrongful, careless or negligent behavior that caused his clients' injury or loss does not happen to others.