Aidon Ng, 5-years-old, is dead today. I sadly wrote about his death in an article yesterday: Was the Death of 5-Year-Old Aidon Ng Due To A Seat-back Failure?
KITV News reports today that:
"[c]ar collisions are the leading cause of death of children over the age of 1, according to national statistics. By properly using child safety devices, these deaths can be reduced by as much as 71 percent for infants under the age of 1 and by 54 percent for toddlers. Awareness is on the rise for road safety and especially for our keiki.
Let's stop here for a moment. Let me repeat what KITV News is saying:
By properly using child safety devices, these deaths can be reduced by as much as 71 percent for infants under the age of 1 and by 54 percent for toddlers.
Aidon Ng is gone. If we had collectively as a community been working at child passenger safety for the past 10 years maybe Aidon would be alive. Well, we cannot go back, but we can start today to commit to child safety in Aidon's memory. His dad and mom are gone. Aidon is gone. His sister lives on. We must all protect this child who now goes on alone at the age of eight.
National Child Passenger Safety Week starts this Saturday on September 12th. Everyone is so worried about their mortgage payment and about reducing stress. What about saving the life of a child like Aidon Ng? Worried about the Swine Flu pandemic – H1N1? Guess who sponsors National Child Passenger Safety Week ? The Center for Disease Control. The CDC! Kids can't buckle up. Some are saying that Aidon Ng was not in a seat harness. Is that true? Whether or not this child was in a protective harness, one thing is certain: he could not protect himself. And I know that it is tempting to ask his parents what they were thinking and h=what they did, but I am past that also. I ask myself what I could have done to protect Aidon Ng. In Hawaii we look at keiki that way.
What can we do? Here is what the CDC suggests:
Seat all children ages 12 and younger in the back seat and be sure they are properly restrained every time they ride with you–even during those quick trips to the corner market. The resources below can help you find more detailed information about proper restraints including rear–facing seats, forward-facing seats, and booster seats.
Read both your car (or booster) seat instruction manual and your vehicle owner's manual to make sure you are properly installing and using the seat. One study found that 73% of nearly 3,500 observed child restraint systems were misused in a way that could increase a child's risk of injury during a crash.²
Send in your car seat registration card so that the manufacturer can contact you about any recalls. You can also call the NHTSA Auto Safety Hotline at &@40;888) 327–4236 to find out about recalls.
Replace any car seat that was used during a motor vehicle crash.
Hawaii police know that some keiki will scream like hell about the car seat:
"You may have some kids balking at being in a booster seat but it's the safest way for them to ride," said Honolulu Police Department Capt. Charles Hirata.

"Annually we lose about 1,300 kids around the country to motor vehicle crashes," said Brennon Morioka, with the Department of Transportation.
Captain Hirata wears the prestigious uniform of the police who protect us (and give us tickets!) but he is also a father:
"As a father of three very young kids and my twins are here today … I feel it is my obligation as a parent to do everything within my power to protect my kids and that means putting them in a child safety seat or booster," said Morioka.

It's not only having safety devices but also knowing how to properly use them.

"Some of the most common mistakes parents make are not reading the instruction manual for the seat and for the vehicle," said Hirata.
Captain Hirata also pointed out to KITV News that parents make the mistake of having the seat being too loose and not adjusting the harness straps properly.
A child passenger in Hawaii must be in a child safety seat if they are under the age of 4. Children from 4 to 8 are required to ride in a safety seat or booster seat. Drivers not compliant can be fined up to $500.
In 2008 police across the islands cited 937 parents for child restraint violations.
To get details on free community car seat checks happening across the islands over the next few weeks, visit Keiki Injury Prevention Coalition.
KITV.com should be commended for bringing attention to the dangers faced by child passengers in cars and what the police are doing to prevent injury and death of Hawaii's keiki.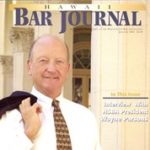 A resident of Honolulu, Hawaii, Wayne Parson is an Injury Attorney that has dedicate his life to improving the delivery of justice to the people of his community and throughout the United States. He is driven to make sure that the wrongful, careless or negligent behavior that caused his clients' injury or loss does not happen to others.