How do you find an attorney to represent you in Hawaii? Of course it is easy to find an attorney because they advertise. But how do you determine if a particular Hawaii lawyer is the best for you? Big Firm vs. small firm? Older attorney vs. younger attorney? Lawyer who has gone to trial many times vs. one who rarely or never goes to trial?
Here are some suggestions that may help you find the best attorney for you:
Ask questions
Usually you can talk to an attorney at no charge: do that.
Interview more than one attorney. Second opinions are always valuable.
Make sure that the attorney you choose won't pass the matter on to an associate.
Find out how many times the attorney has handled a legal matter like yours
Has the attorney ever gone to trial?
Has the attorney ever gone to trial in a case like yours?
What is the fee?
How are out-of-pocket expenses handled?
What will the attorney actually do in your situation? Get an idea of how the matter will progress.
Does the attorney carry insurance? Attorneys are human and they make mistakes too.
Never hire an attorney unless they have liability insurance (called an Erorrs and Omission policy) to cover their mistakes.
Does the attorney have any disciplinary problems with the Office of Disciplinary Counsel (ODC)?

Office of Disciplinary Counsel

1132 Bishop Street, Suite 300

Honolulu, Hawaii 96813

Phone: (808) 521-4591

If the matter is complicated and will require the hiring of experts if the attorney is going to advance those costs, can the lawyer afford to do that? Medical malpractice cases for instance often involve costs before trial of more than $50,000.
Do you feel comfortable with the attorney?
Do you trust the attorney? Check your gut feelings because they matter!
Did the attorney solicit you in person or through an intermediary? That is illegal. Report this to ODC if it happens and never, ever hire an attorney who violates the laws to get your case. Unfortunately this happens all too often and it is an abuse.
If you are looking for an attorney in a personal injury case, does the attorney belong to The Consumer Lawyers of Hawaii (CLH) and to The American Association of Justice (AAJ)? Never hire an attorney in a personal injury case unless they belong to both organizations. CLH and AAJ provide valuable support on personal injury litigation. Lawyers who do not belong are not serious about personal injury litigation and may be incompetent to handle your claim. Do not be misled by a flashy reputation. Look at real credentials and nothing is more important to you than this criteria!
In Hawaii we have many fine lawyers and there are many choices that will please you. But too often the flashy advertising and ambulance chasing puts you at the disadvantage of having the Hawaii Attorney choose you rather than the other way around. If you are reading this you have already demonstrated that you want to be educated about using legal services.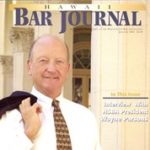 A resident of Honolulu, Hawaii, Wayne Parson is an Injury Attorney that has dedicate his life to improving the delivery of justice to the people of his community and throughout the United States. He is driven to make sure that the wrongful, careless or negligent behavior that caused his clients' injury or loss does not happen to others.