Yes we have three branches of Government:
Executive (president, governor and mayor)
Legislative (Congress, state legislature and county/city council)
Judicial (the courts)
In the first two the public has no direct input. You vote for a "Representative" and they in turn vote or do things on your behalf without consulting you. Only in the third branch, the Judicial Branch, do citizen juries actually get to speak directly and to decide important issues. Wall Street and the powerful hate the idea of citizen juries. For 40 years they have waged war on your part of the American dream: the idea that citizens on a jury can tell the big boys and girls what to do.
In their attack on your branch of government they have told many lies about what happens in court. They imply that excessive compensation is the rule and frivolous lawsuits are rampant. The truth by every standard is the opposite.
A small group of attorneys takes cases for individuals on a contingency fee (if the case loses the attorney does not get paid). The Commonweal Institute has published the truth about this attack on the judiciary and attorneys who represent individuals (as opposed to corporations and insurance companies). In their reports "The Attack on Trial Lawyers and Tort Law" and "Responding to the Attack on Trial Lawyers and Tort Law" the Commonweal Institute refutes the common myths of frivolous lawsuits and greedy attorneys.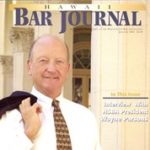 A resident of Honolulu, Hawaii, Wayne Parson is an Injury Attorney that has dedicate his life to improving the delivery of justice to the people of his community and throughout the United States. He is driven to make sure that the wrongful, careless or negligent behavior that caused his clients' injury or loss does not happen to others.