The CEO's of the top 10 property/casualty insurance companies earned an average $8.9 million in 2007. The CEOs of the top 10 life and health insurance companies earned – believe it or not – even more with an average paycheck of $9.1 million. For the insurance industry as a whole, the median cash compensation for an insurance CEO leads all industries at $1.6 million per year.
Remember these facts when you hear the adjuster tell you that they won't pay for your medical treatment or your lost time from work due to an injury.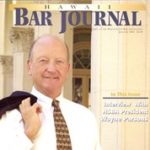 A resident of Honolulu, Hawaii, Wayne Parson is an Injury Attorney that has dedicate his life to improving the delivery of justice to the people of his community and throughout the United States. He is driven to make sure that the wrongful, careless or negligent behavior that caused his clients' injury or loss does not happen to others.