A radio announcer in Honolulu used to have a daily "densa" award for the most stupid person in the news. I don't think they do it anymore but if they did a Big Island 20 year old, Kahiliokeanuinu Puaalani Peleiholani, would get the dubious award for his recent car crash in Kamuela. The auto accident happened at about 4 PM on Thursday when Peleiholani's 1995 Toyota pickup traveling north on Queen Kaahumanu Highway made a left turn onto Mauna Lani Drive and collided with a 2006 Ford van traveling south. Then his pickup truck crashed into a 2007 Hyundai van that was stopped in the left turn lane on Queen Kaahumanu Highway.
According to a report in The Honolulu Advertiser, the 56 year old driver of the Ford van and his 35 year old male passenger were taken to North Hawaii Community Hospital and confined in serious condition. No one was injured in the stopped Hyundai.
Peleiholani was allegedly intoxicated. He had to be extricated from his vehicle by a fire rescue team and when out of the vehicle he got into it with the police and his rescuers and assaulted one of the officers. That's the "densa" part. First the guy gets drunk and causes a major collision and then after being rescued he starts to fight with the people who rescued him. He was injured badly enough to require medivac to Honolulu for treatment at The Queens Medical Center.
Peleiholani is being charged with 1) operating a vehicle under the influence of an intoxicant, 2) two counts of negligent injury, 3) assault on a police officer and 4) promoting detrimental drugs in the third degree.
For those who wonder what the crime of "negligent injury is, the law states the following:
[§707-705] Negligent injury in the first degree. (1) A person is guilty of the offense of negligent injury in the first degree if that person causes serious bodily injury to another person by the operation of a motor vehicle in a negligent manner.

(2) Negligent injury in the first degree is a class C felony. [L 1988, c 292, pt of §1]

COMMENTARY ON §707-705

Act 292, Session Laws 1988, added this section which defines negligent injury in the first degree. The legislature felt that stronger measures were needed to protect the public and to deter those who negligently operate a motor vehicle, which results in bodily injury or death to others. Senate Conference Committee Report No. 278, House Conference Committee Report No. 105-88.
A Class C Felony is a serious crime punishable by up to 5 years in prison.
The law in Hawaii has special provision for a person under the age of 21 driving after consuming alcohol:
HRS Section 291-4.3. Driving after consuming a measurable amount of alcohol; persons under the age of twenty-one.

(a) It shall be unlawful for any person under the age of twenty-one years to drive, operate, or assume actual physical control of the operation of any vehicle with a measurable amount of alcohol concentration. A law enforcement officer may arrest a person under this section when the officer has probable cause to believe the arrested person is under the age of twenty-one and had been driving or was in actual physical control of a motor vehicle or moped upon the public highways with a measurable amount of alcohol. For purposes of this section, "measurable amount of alcohol" means a test result equal to or greater than .02 but less than .08 grams of alcohol per one hundred milliliters or cubic centimeters of blood or equal to or greater than .02 but less than .08 grams of alcohol per two hundred ten liters of breath.
Peleiholani was 20-years-old.
A good place to see the various laws covering driving and the use of alcohol or drugs – and that includes prescription drugs – go to: HAWAII REVISED STATUTES CHAPTER 291 TRAFFIC VIOLATIONS.
The bottom line for Mr. Peleiholani is that he is in a heap of trouble and apparently is also seriously injured. And the saddest part of all is that nothing that follows for him will take away the injuries that he has caused to others. Hopefully those injured will recover well and not suffer any permanent losses. I suspect that Peleiholani had no insurance or minimum coverage which means that the injured victims will not even be covered for their medical bills. Hopefully they carried "uninsured motorist" and "underinsured motorist" insurance coverage. With the large number of uninsured and underinsured drivers on the highways, it is very important for every driver the purchase uninsured and underinsured motorist protection. It is cheap and protects against a life altering injury that ends up putting the injured victim of a car crash on welfare. For instance you can get $500,000 of underinsured and unisured covergae for as little as $150 a year. If you are seriously injured by an uninsured driver your family would have to pay the medical bills and there would be no wage replacemnent. Ask your insurance agent about these coverages today. It is dangerous out there on the highways.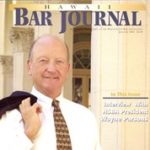 A resident of Honolulu, Hawaii, Wayne Parson is an Injury Attorney that has dedicate his life to improving the delivery of justice to the people of his community and throughout the United States. He is driven to make sure that the wrongful, careless or negligent behavior that caused his clients' injury or loss does not happen to others.