Hawai'i has an aging population that, although healthier than the national averages, face the normal health problems of aging including heart problems. As heart problems develop over time one of the greatest risks facing the patient is pulmonary embolism (PE) when a blood clot from the legs travels to the lungs. Untreated the condition can have as high as 30% mortality. Treatment usually starts out with anticoagulation medication (blood thinners) but some patients find that treatment to be ineffective and if the risk of PE is high, one treatment option is to place a filter in the inferior vena cava that will catch the clot before it can do damage to the patient's heart.
A number of filter devices have been invented, tested and put on the market. Many Hawai'i residents have received such a device. Some of these devices have flaws that have led to patient death or severe injury.
Judith Walsh, MD, MPH is a Professor of Medicine, Division of General Internal Medicine, Department of Medicine, University of California San Francisco and she wrote an article on this subject entitled "Safety and Effectiveness of Inferior Vena Cava Filters Used to Protect Against Pulmonary Embolus: A Technology Assessment".
Dr. Walsh explains in her article that "retrievable" IV filters have added risks:
More recently, retrievable filters have been introduced. "Retrievable" filters are filters that can be placed in patients at high risk for PE and then removed later when the risk has decreased. There are different types of retrievable filters, G2 and G2X, manufactured by Bard, OptEase, manufactured by Cordis and Gunther tulip and Cook Celect, manufactured by Cook. Although the devices are designed to be retrievable, retrieval can be difficult and is not always successful. In a recent study of 240 patients who underwent placement of IVC filters, only 73 (30.4%) had documented plans for filter removal and of 62 who underwent attempted filter retrieval, 25.8% of filters could not be successfully removed [Mission, JGIM 2010: (25 (4): 321–5]. The recommended duration of use varies for each manufacturer, but the longer a filter is in place, the more difficult it is to remove. Filters that are not removed stay in place and may be associated with potential complications.
The FDA has been involved since 2005 and before about whether certain devices are safe including the Bard G2 and G2X retrievable filters:
In August of 2010, the FDA reported that since 2005, they had received reports of 921 IVC filter adverse events. The complications included device migration (n=328), embolizations/device component detachment (n=146), IVC perforation (n=70) and filter fracture (n=56). Some of these adverse events were associated with adverse clinical outcomes. Some of the adverse events may also be related to retrievable filters not being removed and staying in past the time when the risk of pulmonary embolism has subsided.
Dr. Walsh reported on a review of patients who had problems with an IV filter:
One important recent study evaluated the potential adverse effects of filter placement and focused on the prevalence of fracture and embolization of the Bard Recovery and the Bard G2 vena cava filters (VCF) Nicholson, 2010.[28] Eighty patients who had filters inserted between 2004 and 2009 had fluoroscopy to assess the filter's integrity. Patients who had fragment embolization underwent echocardiography and cardiac computed tomography. Of the 80 patients, 13 (16%) had at least one strut fracture. Among the 28 Bard Recovery filters, seven (25%) had a strut fracture with embolization. The strut embolized to the heart in five out of seven cases. Three patients had life threatening ventricular arrhythmias or tamponade. There were 52 Bard G2 filters. Six of them (12%) fractured. Two of the six had embolization to end organs although they were asymptomatic. The results of this study show that there are potentially major complications associated with vena cava filters. Although actual population prevalence cannot be estimated from a retrospective study, the relatively high incidence of complications, some of them life threatening, is concerning.
The FDA sent a Warning Letter to Bard on July 13, 2015 stating that, among other things, the "FDA has learned that your firm manufactures the Recovery Cone Removal System, Model RC-15 in the United States without marketing clearance or approval, in violation of the Act. Under section 201(h) of the Act, 21 U.S.C. § 321(h) .. ." In 2014 doctors were made aware that the removable Bard IV filters should be removed from patients to avoid the problem of fractured parts.
Noted medical device lawyer Shezad Malik, MD, JD reported in "New York Bard IVC Filter Migration & Perforation Lawsuit" that:
Recently, an NBC News Investigation raised questions about the Bard Recovery blood-clot filter, a medical device implanted in thousands of Americans at risk for blood clots.

The television program, aired in 2 episodes, noted that the device was linked to at least 27 deaths and over 300 other non-fatal injuries. The second report questioned how the filter device received FDA clearance and alleged that a key signature on the application may have been forged.
The two-part NBC News story "Did Blood-Clot Filter Used on Thousands of Americans Have Fatal Flaw?" by Tim Sandler, Stacey Naggiar and Stephanie Gosk noted in their story that "Executives at C.R. Bard hired an outside doctor to conduct a confidential study of their filter. The study indicated that the filter had a higher relative risk of fracture, movement and death that all of its competitors." The importance of media coverage like that of NBC News, as well as the vigilance of trial lawyers like Shezad Malik MS JD, is important in protecting the public who are often not well informed about these complex subjects.
Hawai'i News Now has reported briefly on the subject in "Koskie Minsky Investigating a Class Action Concerning IVC Filters". These cases are individual injury cases, not Class Actions which apply to things like credit card interest charges. The Bard IVC lawsuits are filed as individual cases because the injuries are all different and are unique to the injured patient. But because there are many hundreds or even thousands of individual claims, spanning many states, that have a common defendant and common cause (i.e., the Bard IVC filter), the cases are consolidated in one Federal District Court so a judge can organize the claims and avoid duplicative motions and discovery. They call that process "Multi-District Litigation" or "MDL". It is not a Class Action which is a different process. Currently the MDL is assigned to a Federal Court judge in Arizona. In that process each patient/plaintiff will have their own case and will have to prove their own damages as well as being required to prove that a defect in the Bard IVC filter caused their injury or death.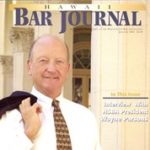 A resident of Honolulu, Hawaii, Wayne Parsons is an Injury Attorney that has dedicate his life to improving the delivery of justice to the people of his community and throughout the United States. He is driven to make sure that the wrongful, careless or negligent behavior that caused his clients' injury or loss does not happen to others.