The goal of this article is to warn and to educate, to save lives and prevent injuries.
Hawaii's roads are full of mopeds and motorcycles. Young people are opting to get a moped over a car since they are less expensive to buy and to operate and easier to park. And tourists also fill our highways with mopeds. The weather is good and the adventure of a vacation in Hawaii is a perfect scene for moped travel.
But if you ask those at the Queen's Medical Center Trauma Center or any other hospital emergency room in the State, they will tell you that the epidemic of injuries and deaths to motorcycle riders continues on Hawaii roads. The loss of life and the cost to the public for medical care for the injured is staggering. Consider that many motorcycle riders have no or limited medical insurance should they be injured and that the cost of medical care for fractured bones can be in the hundreds of thousands of dollars. Many motorcycle crashes result in paralyzing injuries or traumatic brain injuries that result in lifetime medical expenses of millions of dollars. If the motorcycle rider does not have that much in medical coverage State and Federal tax dollars pay the bills and that aggravates the debt that our government faces. And those monetary expenses are small compared to the human suffering that families experience: a mother and father required to give around the clock nursing care at home _ for the rest of their lives _ to a family member paralyzed in a crash, or a child saddled for life with a traumatic brain injury. The importance of safety education has been the subject of prior articles: Motorcycle Safety Education Gets Attention After Fatal Crashes, by Wayne Parsons, January 03, 2009.
Preventing these tragedies should be a major priority for Hawaii which has a higher than normal incidence of motorcycle crashes. I am a big proponent of motorcycle helmets as my prior articles attest. Hawaii Safety First; The best graduation gift may be a motorcycle helmet, by Wayne Parsons, March 24, 2012.
But there are many additional safety measures that motorcycle riders should take. The Motorcycle Safety Foundation website is a great place to start as a resource on motorcycle safety and injury prevention.
When a family member or a child wants to get a motorcycle or moped there are often heated discussions about safety. A middle ground to not getting a moped or motorcycle is to study the MSF website and promise to follow their suggestions. The first thing to remember is that car and truck drivers often do not see mopeds or motorcycles. They are looking for big objects like cars or trucks and they also cannot judge motorcycle or moped speed. The answer is for the motorcycle or moped rider to give themselves extra room. That alone will increase the ability of the biker to avoid a collision with a careless motorist.
The MSF has created the "Search, Evaluate, Execute strategy (SEESM)" to increase time and space safety margins. This easy to follow program can be downloaded from the MSF website and will take a new biker through all of the steps to make them a safe operator of the bike and help them defend themselves against the negligent motorist.
Dressing for safety is also an important factor. All moped and motorcycle crashes are violent and life threatening. Even if the biker lays the bike down and slides without being run over he or she is in for a violent scraping, rolling, tumbling experience. So follow these tips to protect yourself if you are riding on a moped or motorcycle:
Where a helmet that meets the latest safety standards.
Clothing should be protective. Wear leather or tough fabric.
Wear long sleeves or a jacket, gloves and don't wear shorts or a tank top.
Bright yellow or orange clothing is mandatory. Dark colors fade into the background at dusk. Don't make yourself invisible.
When you ride "assume" that you are invisible and remember that one second of inattention can lead to the end of the rest of your life. We live in a free country and we are free to make these choices and decisions. The high probability of a motorcycle or moped crash is a reality that every biker faces. Experienced bikers have a relatively low chance of being injured or killed because they take precautions, understand their equipment and don't make foolish and careless decisions.
One last rule that applies to all vehicles on Hawaii's roads:
Don't drink and drive!
Don't speed!
Both are killers.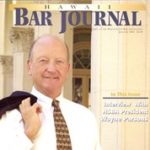 A resident of Honolulu, Hawaii, Wayne Parsons is an Injury Attorney that has dedicate his life to improving the delivery of justice to the people of his community and throughout the United States. He is driven to make sure that the wrongful, careless or negligent behavior that caused his clients' injury or loss does not happen to others.