Malia Zimmerman of The Hawaii Reporter reports on 20 October 2009 that a "Jones Act Lawsuit Will Test Control of Hawaii's Shipping Monopoly". Her story is about a bread maker in Hilo who claims that he had to pay $5.50 to ship a 50 lb. bag of flour to Hilo from the mainland and that the cost ruined his business.
Wait a minute, Malia!
I thought that the Jones Act was a law that allowed injured crew on ocean going vessels to get money for medical bills and wage loss (maintenance and cure), if they got injured, so they can get back to work!?
Here is what happened to O'Keefe & Sons Bread Bakers:
Big Island small business owner Jim O'Keefe operated the O'Keefe & Sons Bread Bakers in Hilo, Hawaii for 13 years before shutting down his extensive operation in 2008. His popular bakery closure left 50 people out of work, retail customers searching for other restaurants to buy deli and baked goods from, and several area businesses, grocery stores and resorts scrambling for other local places to buy wholesale baked foods.
O'Keefe claims that the cost of shipping made it impossible for him to stay in business. Those costs included shipping costs for flour and other food ingredients.
"I would buy a 50 pound bag of flour for $6 or $7 in the mainland, and by the time it landed in Hilo, it cost me $12.50 a bag," O'Keefe says.
I have to tell you folks, I am not shocked by that shipping cost. Don't get me wrong. I am not an expert on making bread in a commercial enterprise, I'm just talking about $5.50 for 50 lbs.
The 2 oz. letter I just sent to Harriet (my sister) in Michigan for $0.42 seems to be more expensive per ounce than the flour that Mr. O'Keefe needs to make his bread. A 50 lb bag would cost $168 if the U.S. Postal Service carries it to Hilo and charges the same rate as for a letter. O'Keefe pays $5.50. And he is filing a lawsuit?
If regular people paid the equivalent rate of $5.50 for 50 pounds in shipping to Hawaii, a letter would cost 2 Cents in postage. That's right, a letter would cost $0.02, not $0.42 as it is today.
O'Keefe blames his business failure on the fact that the ships bringing the flour are required by the Jonhes Act to employee American workers. American crews get paid a living wage for America. I am very interested in what Hawaii working folks – who bought Mr O'Keefe's bread, think about his suggestion that we should not protect Hawaii and U.S. workers. He says that the cost of goods are ridiculously high in Hawaii because of the Jones Act and that stems from using an American work force on the ships.
The Jones Act is not about bread or bakers. It protects American workers. The Jones Act is a federal law that says all products shipped between American ports must be shipped in American made vessels by a crew that is 75 percent American. The law supports the high quality American work force. Wouldn't O'Keefe's lawsuit result in cheap labor from foreign countries taking over many of our industries and thowing our economy farther into the hole?
My guess is that American sailors who he wants to put out of work won't be buying his bread. O'Keefe wants to allow competition from what he calls "world shippers" and he complains that using American workers unfairly raises the cost of doing business for his bread company. O'Keefe says that what is running him out of business is being forced to use American workers.
Another claim he is making is that the cost that is running him out of business is "six figures over the life of his business". Let's think about that. "Six figures" over the life of his business is from $100,000 to $999,999. Let's make it $100,000. My thought is that if it was closer to $999,999, he would have used "7 figures". O'Keefe does not state what "the life of his business" is in years. Let's use 10 years. I'm guessing on that period of time but O'Keefe or his attorneys can Comment, and I will use their numbers.
$100,000 over 10 years is $10,000 per year. I wonder how much O'Keefe thinks a 50 pound bag of flour should cost to ship to Hawaii? Any ship will charge something for shipping. O'Keefe says that the $5.50 that he pays to ship a 50 pound bag of flour should be only one-third of that amount: $1.83. So that means the $3.67 per 50 pound bag of flour cost him his business.
I wonder what his position is about lawsuit abuse and tort reform? Is this a crazy lawsuit? Tort reform is on everyone's mind these days. Is this an example of a good lawsuit or a bad lawsuit?
Are all of the bakers in Hawaii going broke since they all have to buy flour and ship it into the state? Wouldn't everyone be on the same footing? Or did the customers choose other bread for other reasons? Was Mr. O'Keefe's business operation efficient? I am sure that the lawsuit will get into all of those details.
O'Keefe and his attorney John Carroll are asking Hawaii's Chief U.S. District Judge, David Ezra, to rule, on December 7, 2009, that the Jones Act is "excessively expensive for Hawaii's people and is in violation of the Fifth and Fourteenth Amendments as well as the Commerce Clause of the U.S. Constitution." In essence I think that claim breaks down to the the core fact that forcing ships to us American workers whenthe bring goods to Hawaii from the west coast is un-American and violates the Constitution of the United States. The Hawaii Reporter summarizes their position:
One of the purposes of enacting the Jones Act, Carroll says, was to ensure the United States of America would be well equipped with a maritime fleet that could compete in a worldwide economy, but it has had the opposite effect: "Unfortunately, it created unconstitutional restrictions on commerce between the state of Hawaii and worldwide shippers as well as on interstate commerce."

Because Hawaii is separated from the continental United States by 2,300 miles of ocean, he estimates "Hawaii is dependent on ocean shipping for at least 90 percent of every commodity used and consumed in the state." That had a compound effect on agriculture and the ranching industry. "The expense of agricultural production became prohibitive, not only because of the inbound shipping cost of fertilizers, herbicides, and farm implements, but also due to the outbound shipping costs for our locally grown fruits, livestock and ornamental plants. Hawaii cattle ranchers are faced with an intolerable situation. They often have to transport their cattle, from Kawaihae to Vancouver B.C. on a Canadian owned Corral Lines to remain profitable. The cattle must then be trucked (often for 500 miles) into the U.S. to be fattened and sold. To go direct, some are flown on Boeing 747 aircraft," Carroll says.
How do you feel about that?
Former Congressman Ed Case, D-Hawaii (2002-2007) is running for Congress with a platform that agrees with O'Keefe on this issue. Case would support a change in the Jones Act to eliminate the American crew requirement on ships coming to Hawaii. Case is apparantly also concerned that "one company" is the only one allowed to bring flour to Hawaii. According to the Hawaii Reporter story:
In a September 2003 Congressional speech seeking an exemption for Hawaii and other non-contiguous U.S. locations from the Jones Act, Case asked, "Is it fair that our federal government creates a monopoly over any key aspect of life in Hawaii? Is it fair that our federal government provides one company, effectively, with the ability to control, to dominate, the lifeline that we have between here and the Mainland for all of our goods? Because that's exactly what the Jones Act does."

Case noted that 97 percent to 98 percent of our goods come to Hawaii from the Mainland, all come by shipping. "When somebody gets a hold of our lifeline, that's a dangerous sign for us. And we're paying for it in spades, thousands of dollars for each and every citizen of this country and this state, far more money for businesses that employ people and have to deal with those goods and services. That's not fair, and that's not the way it should be. We have laws in this country against the creation of monopolies, we believe monopolies are bad. Yet in this case, a federal law creates a monopoly."
While Case supports a Jones Act exemption for Hawaii, his primary opponent, Senate President Colleen Hanabusa, supports the Jones Act. She supports a crew of at least 75% Americans on ships coming to Hawaii with bread flour (and everything else). What do you think?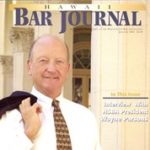 A resident of Honolulu, Hawaii, Wayne Parsons is an Injury Attorney that has dedicate his life to improving the delivery of justice to the people of his community and throughout the United States. He is driven to make sure that the wrongful, careless or negligent behavior that caused his clients' injury or loss does not happen to others.