The Miami Herald (5/29) reports, "Nearly three of 10 teenage Florida foster children have been prescribed a mental-health drug, and 73 foster kids younger than 6 are taking mind-altering drugs, according to a study released Thursday in response to the death of a Broward foster child who was taking such medications." In total, "13 percent of Florida foster children — are being given powerful psychiatric drugs, said the study, commissioned last month by Department of Children & Families Secretary George Sheldon. The largest group, almost 60 percent, are teens ages 13 to 17." Sheldon said there were "serious questions" over the "use of mental-health drugs on children. Many such drugs have never been approved by the Food and Drug Administration for use on children, and many are linked to serious side effects."
The Daytona Beach News-Journal (5/29) reports, "More local foster children are on psychotropic medications than the state average, according to a state review done following the suicide of a 7-year-old foster child in South Florida." Rachel Smith, interim chief executive officer of Community Partnership for Children, the local foster care agency, "said she was surprised the local numbers are higher than the state average and the agency will be looking into why that is the case." The drugs in question "affect the central nervous system and can change behavior or perception. They are prescribed for depression, anxiety, schizophrenia and other psychiatric conditions. Some are used to alleviate pain." Smith said, "The biggest surprise is the younger kids."
The Florida Times-Union (5/29, Larrabee) reports, "Almost 2,700 foster children are on psychiatric medicines, including hundreds in Northeast Florida, even though the agency has no authority to give the drugs to more than 16 percent of those children, according to a state report issued Thursday." Locally, "in the Fourth Circuit, which is Duval, Clay and Nassau counties, 205 children in foster care are taking at least one psychotropic drug. That number is 136 for the Seventh Circuit, comprised of St. Johns, Putnam, Flagler and Volusia counties, and 76 in the Eighth Circuit of Baker, Union, Bradford, Gilchrist, Alachua and Levy counties."
The Jacksonville Observer (5/29) notes that "for the general population, about 4 percent to 5 percent of children are placed on psychotropic drugs."
The South Florida Sun-Sentinel (5/29, Burstein) reports that the children are being "given the medications without the court order or parental consent mandated by law, according to a study released Thursday by the state Department of Children & Families." DCF Secretary George Sheldon said there was "no rational basis" for the practice.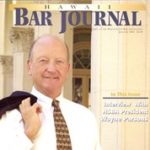 A resident of Honolulu, Hawaii, Wayne Parsons is an Injury Attorney that has dedicate his life to improving the delivery of justice to the people of his community and throughout the United States. He is driven to make sure that the wrongful, careless or negligent behavior that caused his clients' injury or loss does not happen to others.