A news note from:
Arthur Bryant
Executive Director
Public Justice
& the Public Justice Foundation
The Public Justice "Access to Justice Campaign" and "Mandatory Arbitration Abuse Prevention Project" have just won a major victory in the New Mexico Supreme Court! In Cordova v. World Finance Corporation of New Mexico, the Court unanimously struck down a one-sided mandatory arbitration clause that allowed the company to sue its customers in court, but forced its customers out of court and into arbitration.
"This case requires us to review the validity of a small loan company's form arbitration provision that would limit a borrower to mandatory arbitration as a forum to settle all disputes whatsoever, while reserving for the lender the exclusive option of access to the courts for all remedies the lender is most likely to pursue against the borrower, " the Court said. "We hold that such an inherently one-sided agreement is against New Mexico public policy and is therefore void as unconscionable."
The facts of the case are truly disturbing. When Laura Cordova of Las Vegas, N.M., got sick and fell behind on her short-term loan payments, she explained her situation to World Finance. Apparently, the company didn't believe her. For weeks, its agents called Ms. Cordova on her job at a local non-profit agency. Then they began calling her boss and coworkers. They were told that she was at home recovering from lung surgery, but a World Finance representative showed up at Ms. Cordova's workplace, disguised as a prospective client in need of social services.
When the ruse was uncovered and Ms. Cordova was apprised of it, World Finance threatened to sue the employer for violating "client confidentiality," even though the "client" in this instance was an imposter. Let go from her job because of the situation, Ms. Cordova sued World Finance over its collection practices, but World Finance insisted that, while it could sue her, the only way she could redress her grievances was to submit to arbitration by a third party contracted by World Finance. The New Mexico Supreme Court's decision held otherwise — and preserves Ms. Cordova's right to a day in court.
To read the New Mexico Supreme Court's decision in Cordova, click here.
To read Public Justice's brief in Cordova, click here.
Congratulations and thanks to Public Justice Staff Attorney Paul Bland, who argued the case, and plaintiff's lead counsel, Rob Treinen of Feferman & Warren in Albuquerque. Congratulations and thanks to you, too, for helping make this victory possible. With your help, we will continue to fight against unfair mandatory arbitration and for access to justice for all.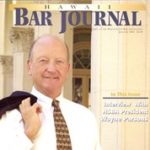 A resident of Honolulu, Hawaii, Wayne Parsons is an Injury Attorney that has dedicate his life to improving the delivery of justice to the people of his community and throughout the United States. He is driven to make sure that the wrongful, careless or negligent behavior that caused his clients' injury or loss does not happen to others.