In a report by Honolulu Advertiser military writer William Cole, Earthjustice contends that the Army skewed a study of contamination in a report. The report analyzed the impact of 60 years of military training in Makua Valley on the marine environment. The report stated that the contaminants near Makua compared to "background" test sites at Nanakuli and Sandy Beach implying that the military had not polluted Makua.
David Henkin, an Earthjustice attorney representing plaintiffs in a lawsuit against the Army, contested this report:
"Unfortunately, the Army has used contaminated background sites so that the samples they gather at Makua look relatively safer," Henkin said yesterday.
The comparison made by the military used "polluted" areas near Nanakuli and next to Sandy Beach near a sewage plant outfall, Henkin said.
Samples were gathered in muliwai, or estuaries, and offshore from Makua, and from a muliwai near Nanakuli and near shore off Sandy Beach.
Earthjustice has long been engaged as a voice for the people affected by pollution issues in Hawaii.
The issue is what level of pesticides and other cancer causing contaminants a person gets from eating fish from these locations locations exceeds U.S. Environmental Protection Agency risk levels for carcinogenic exposure.
The risk factor relates to pesticides and other compounds.
Limu, or seaweed, gathered near Makua exceeded the EPA risk level for arsenic, for both subsistence and recreational gathering.
"While the nation grapples with securing its drinking water supplies from possible terrorist attacks, it still must contend with a concern being debated well before Sept. 11 — how to keep levels of arsenic down. Drinking water can become contaminated when arsenic seeps in from natural sources or is discharged into water supplies by agricultural and industrial processes. The Safe Drinking Water Act requires the U.S. Environmental Protection Agency to limit the level of arsenic in drinking water. What that limit should be, how-ever, has been the subject of intense public discussion, and the National Research Council has been called upon twice in recent years to make sure that any resulting regulations are based on the best available science."
Shellfish near Sandy Beach had greater contamination levels than found at Makua.
The more-than-1,600-page draft study by the Army, a requirement to potentially return to live-fire training in the 4,190-acre Wai'anae Coast valley, identified a number of substances in fish, shellfish and limu that are possible byproducts of military training, including RDX, perchlorate, arsenic, chromium, cobalt, nitroglycerin and manganese.
But the study released yesterday said a connection is not clear-cut.
"Though these and other substances may be the byproducts of military training at (Makua Military Reservation) they are also linked to natural and anthropological sources, such as fireworks, rodenticides, gasoline and volcanic rock," the study said.
The report said organochlorine pesticides were used historically throughout Hawai'i for termite control and in agriculture.
The Army's study was required under a settlement agreement with the group Malama Makua, which filed suit against the Army in 2000 over live-fire training in the valley.
The case has been in federal court ever since, with the Army blocked from live-fire training since 2004, because of its failure to complete an environmental impact analysis of 60 years of training.
The marine study will be part of a final environmental impact statement that the Army said is due out next summer.
What do you think about this problem? You can comment here at my Blog or directly to the Army at www.garrison.hawaii.army.mil/shellfishstudy. I am certain that Senator Clayton Hee will be closely looking at these issues and this report in the current Hawaii Legislative Session. You may also want to share your thoughts with him. Safe drinking water is a matter of health, so important that is considered an issue of national security.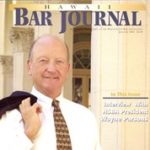 A resident of Honolulu, Hawaii, Wayne Parsons is an Injury Attorney that has dedicate his life to improving the delivery of justice to the people of his community and throughout the United States. He is driven to make sure that the wrongful, careless or negligent behavior that caused his clients' injury or loss does not happen to others.