The Washington Post (10/21, Dennis) reports that the House Financial Services Committee "continued to wrangle over a provision that would allow state governments to protect bank customers by imposing restrictions that go beyond existing federal laws. The move…would eliminate a doctrine called preemption that has allowed big banks to answer solely to federal regulators." According to the Post, the Obama Administration "has supported the change, but the nation's largest banks have vigorously opposed the idea, saying it would lead to a conflicting patchwork of regulation." Reps. Melvin Watt and Dennis Moore "introduced an amendment to the legislation that seeks a middle ground," which "would dictate that national banks comply with state laws except when a state law has a 'discriminatory effect' on national banks in comparison with state-chartered banks."
Bloomberg News (10/21, Vekshin) also reports on the partisan split over "limiting state enforcement of national banks as the House Financial Services Committee debated a proposed consumer protection agency. Republicans said rules written by the Consumer Financial Protection Agency should prevail, sparing national banks from needing to comply with separate state laws. Democrats said state regulators should have power to impose tougher rules to protect their residents from lending abuses."
Dow Jones Newswires (10/21, Holzer) also reported on the debate, suggesting that Democrats are edging closer to siding with state regulators.
MarketWatch (10/21, Orol) similarly reports that the committee "moved closer to approving a contentious provision that would give state regulators more authority to impose consumer protection restrictions that go beyond federal laws on mortgage and other products issued by big banks. … The Watt-Moore measure is being considered as part of a House Financial Services Committee effort to create a controversial proposed Consumer Financial Protection Agency, which Democratic lawmakers are seeking to set up to write rules for mortgage products and credit cards. Big banks are currently exempt from key state laws and they complain that with the measure they could be required to comply with 51 different sets of regulations, including state and federal rules, which would make doing business nationally more difficult." Law360 (10/20, Dye) also covered the story.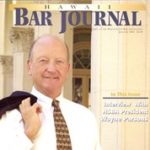 A resident of Honolulu, Hawaii, Wayne Parsons is an Injury Attorney that has dedicate his life to improving the delivery of justice to the people of his community and throughout the United States. He is driven to make sure that the wrongful, careless or negligent behavior that caused his clients' injury or loss does not happen to others.