What were those boys looking for in the grass when Patty Huang, M. D. arrived to pick up her son who had been visiting friends? It turns out the boys were looking for a small ball bearing that had come out of a "Fidget Spinner", a toy that is the rage among kids these days. The boys were tossing it about and a bearing came loose. In case you don't know, toys that have ball bearings that come loose _ and ball bearings in general _ are choking hazards for youngsters. Dr. Huang wrote an article "What's Up with Fidget Spinners" for the Center for Injury Research and Prevention at The Children's Hospital of Philadelphia, Research Institute, warning parents and teachers about the hazards associated with this popular toy. Not only do bearings come loose as the Fidget Spinners are tossed about, the toy has allegedly been used a lure for young children and the Bluetooth technology may cause fires and explosions.
Great care should be taken to keep these away from the mouths of kids and although fires are a new concern, this hazard seems to be like the other electronic devices that have a fire risk associated with the batteries when charging.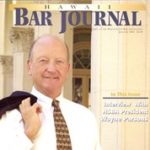 A resident of Honolulu, Hawaii, Wayne Parsons is an Injury Attorney that has dedicate his life to improving the delivery of justice to the people of his community and throughout the United States. He is driven to make sure that the wrongful, careless or negligent behavior that caused his clients' injury or loss does not happen to others.