To build awareness, I hope everyone in Hawaii will watch this moving video below about distracted driving. It was produced by my friend and fellow trial lawyer Joel Feldman and his wife Diane in Pennsylvania. Joel and Diane lost their daughter Casey Feldman when she was killed by a distracted driver and they've dedicated their lives to preventing other such tragedies. In doing so they have enlisted over 800 trial lawyers across the country to go into schools, Rotary clubs and community organizations to give distracted driving presentations that hopefully will reduce the tragedies like the death of Casey. The new video shows that the people who drive while talking on their cell phones, texting, searching for music on a device in the car or programming a GPS are wrong to think that they know how to do this safely. They are just lucky. This is what you or you or your loved ones face every time you drive distracted.
http://www.youtube.com/watch?v=ZaOrI2lnw6w&feature=youtu.be
The release of the video by Joel Feldman was announced today in Boston:
Boston, MA (PRWEB) February 04, 2013

An award winning trial lawyer long recognized for his triumphs in the civil court system has focused his attention on a larger battle that may save millions of young lives on roadways across the nation. Today's video premiere of "Just a Few Seconds" emphasizes the dangers of distracted driving while highlighting how the consequences of a single moment can instantly change the lives of countless others.

Attorney Joel Feldman, who suffered a personal tragedy as a result of distracted driving, will release the video today during a 10:00 a.m. press conference at the Gardner Auditorium in the Massachusetts State House as part of his End Distracted Driving campaign. The nationwide effort has recruited about 500 trial lawyers and 100 professionals as volunteers to inform teens about the sobering statistics of a driving safety crisis in America. Tragedy can't be undone, but Feldman plans to help prevent it.

The documentary illustrates a heartbreaking story through a series of short and compelling interviews that follow two perspectives: a grieving daughter whose father was killed by a distracted driver, and the high school honors student who killed him when she looked away from the road for a moment. Both live every day with the knowledge that one thoughtless choice changed both their lives forever.
As one of the 800 trial lawyers that Joel has recruited across the country to support his organization, www.EndDD.org I have been giving presentations in high schools on Oahu to enlist teens to become spokespersons for the efforts to make Hawaii roads safer by educating drivers about the dangers of doing things like putting on makeup, programming a GPS, searching for a tune on a music device, sending or receiving a text, or talking on a cell phone even when it's hands-free.
Don't think distracted driving is a problem? Here are the facts:
Last Saturday I gave a talk to the Driver's Ed class at Kaiser high school about distracted driving. The students are about to start driving cars on their own and they will be faced with making the decision about whether or not to drive distracted. What is distracted driving? It's not just talking on the cell phone or texting. It's anything it takes the driver's attention away _ even partially _ from the primary task which is driving. Distracted driving is texting and cell phone use but is also putting on makeup, searching for a tune on a music device, programming a GPS, looking around into the backseat, eating and anything else that takes a driver's attention off the road. I am a trial attorney who for 30 years as spoken with families who have suffered a tragic injury or death. In the vast majority of cases I look at the way the accident happened and it was completely avoidable. Distracted driving is always avoidable. None of the things I mentioned are important or necessary. People do them because they can. And only do it once and nothing bad happens they feel immune and they assume that they can do it safely. Many people who consciously drive distracted think of themselves as good drivers can handle it. As you will see from the video below they are just lucky and many of them if they keep doing it for a lifetime cause serious injury or death to themselves or someone else in another family will be sitting in a lawyer's office grieving the loss of a loved one. I hope this article wakes some people up and saves some lives. In the fall I spoke at Waialua high school to 700 students about distracted driving and I have presentations set up at Kapolei high school and hope to give the presentations to all the students in Hawaii high schools before I am done.
Passing laws is only a part of the solution. Each of us decides whether or not to drive distracted as we drive. I believe that people who watch the video above will make better choices and decisions. Nothing that puts you, your passengers and those out the vehicle at risk as indicated above is worth. Don't do it and tell people who do to stop!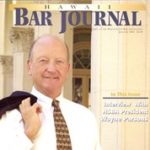 A resident of Honolulu, Hawaii, Wayne Parsons is an Injury Attorney that has dedicate his life to improving the delivery of justice to the people of his community and throughout the United States. He is driven to make sure that the wrongful, careless or negligent behavior that caused his clients' injury or loss does not happen to others.