The American Association of Justice (AAJ) in partnership with American University's Washington College of Law, has issued a report on dangerous foreign products, entitled Defective Foreign Products in the United States: Issues and Discussion, argues that foreign producers are protected by the complex web of laws, policies, and practices that make it difficult if not impossible to sue successfully foreign manufacturers in domestic courts.
The paper looks at the favorable status enjoyed by foreign manufacturers who face "glaring discrepancies" in product liability insurance rates and can often set their prices lower because they are not subject to the equal prospect of restitution U.S. manufacturers face if a consumer is injured by their product.
A second analysis, The Social Costs of Dangerous Products: An Empirical Investigation, looks at the costs of injuries and fatalities associated with three known dangerous products: Ford SUV's with Firestone tires, the pharmaceutical drug Baycol manufactured by Bayer, and all terrain vehicles, or ATVs. These three products alone created nearly $4.7 billion in medical costs, lost wages, and other costs, excluding the cost of pain and suffering and other extended costs.
The research compares compensation awarded in the tort system to the actual costs created by hazardous products and concludes restitution awarded through the tort system is less than the actual costs created by the dangerous products themselves. Although the actual costs are difficult to measure, "the tort system provides a valuable service for society to the extent it successfully deters the sale of dangerous products," according to the report.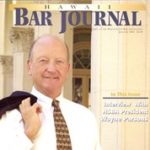 A resident of Honolulu, Hawaii, Wayne Parson is an Injury Attorney that has dedicate his life to improving the delivery of justice to the people of his community and throughout the United States. He is driven to make sure that the wrongful, careless or negligent behavior that caused his clients' injury or loss does not happen to others.