America's product liability laws are a powerful warning to even the most audacious wrongdoers that they cannot market and sell products that injure or kill consumers and expect to get away with it. The following are just a few of the safety changes prompted by our liability laws and punitive damages.
Over-priced prescription drugs
Drug-maker SmithKline maintained a monopoly for one of its drugs by wrongly using patent challenges to delay less-expensive generics from entering the market. On behalf of consumers, small businesses, and drug wholesalers, trial attorneys won compensation for the overcharging and stopped the delays.
Defective "bulletproof" vests
Vests made of a material caused Zylon failed, allowing bullets to penetrate and kill peace officers. 100,000 defective vests and body armor were recalled.
Firestone Tires
Firestone tires used on Ford Explorers were known to explode and cause roll-overs. The tires were pulled off the market.
Children severely burned by highly flammable pajamas.
Riegel Textile aware of hazard, but chose not to treat pajamas with flame-retardant chemicals. $1 million punitive award forced the unsafe product off the market.
Women dying from Toxic Shock Syndrome after using super-absorbent tampons.
Playtex willfully disregarded studies and medical reports linking product to Toxic Shock. The deadly product removed from market after $10 million punitive award.
Tylenol turns toxic, destroying liver when mixed with alcohol.
Johnson & Johnson knew of danger for years, yet instructed agents not to mention it to clients. $8.8 million award spurs company to put warnings on its products.
Faulty surgical ventilator cuts off oxygen supply, causing brain, lung damage.
Airco was aware its design was risky. Airco issues medical device alert after $3 million punitive award.
Defect in car transmission causes automobile to suddenly move in reverse.
Ford knew of defective transmission design, yet failed to warn consumers. Transmission safely redesigned after $4 million punitive award.
Young athletes dying from head, spinal injuries due to unsafe football helmets.
Manufacturers slow to acknowledge danger of their poorly designed product. Liability claims spur improved helmet design; no deaths for first time in 60 years.
Synthetic jaw implant breaks up, causing painful complications.
Vitek fails to test implants in animals or humans. Company discontinues product, issues safety alert in response to liability claims.
Arthritis pain-relief drug causes fatal kidney-liver ailment.
Eli Lilly knew of hazard, but failed to inform doctors, patients and FDA. $6 million punitive award forces company to remove drug from world market.
After inhaling asbestos, workers contract asbestosis, which causes lung cancer.
Manufacturers knew danger of asbestos for decades, but concealed risk from public. Many asbestos products taken off market thanks to liability claims and punitive damages.
Consumers injured when poorly designed Pinto bursts into flames upon impact.
Ford knew how to design car safely, but chose profit over American lives. Vehicle redesigned only after manufacturer hit with $125 million punitive award.
Defective Dalkon Shield intrauterine device causes pelvic disease and septic abortions.
A.H. Robins misled doctors about product's safety, concealed poor test results. $7.5 million punitive award forces manufacturer to recall dangerous device.
Babies tragically being hanged to death on headboard of crib.
Bassett Furniture, which had stopped making crib, failed to notify owners of hazard. Company stepped up recall of crib, public notification effort after $475,000 punitive award.
Defective minivan door latch responsible for 37 deaths, 98 injuries and 134 ejections.
Chrysler knew latch was unsafe, yet did not take steps to fix design or warn consumers. Latch redesigned, old latches replaced in response to class action lawsuit, NTSB pressure.
——————————————————————————–
Nichols v. SmithKline Beecham Corp, The Stop and Shop Supermarket Co. v. SmithKline Beecham Corp
Zylon Vest Class Action, Lemmings, et al vs. Second Chance Body Armor Inc. (Case No. CJ-2004-62) in the District Court for Mayes County, Oklahoma; U.S. Sues Bulletproof Vest Makers, CNN.com, 7/2/2005
Firestone/Ford: A Case Study, Association of Trial Lawyers of America
Gryc v. Dayton Hudson Corp., 297 N.W.2d 727 (Minn. 1980), cert. denied
101 S. Ct. 320 (1980).
O'Gilvie v. International Playtex, Inc., 609 F. Supp. 817 (D. Kan. 1985), rev'd, 821 F.2d 1438 (10th Cir. 1987), cert. denied, 108 S. Ct. 2014 (1988).
Benedi v. McNeil-P.P.C., Inc., 66 F.3d 1378 (4th Cir. 1995).
Airco, Inc. v. Simmons First National Bank, 638 S.W.2d 660 (Ark. 1982).
Ford Motor Co. v. Nowak, 638 S.W.2d 582 (Tex. App. 1982).
Steve Wulf, "The Safest Season; No One Died from a Football- Related Injury Last Year," Sports Illustrated, Apr. 29, 1991, at 16.
Maria Lopez, "Jury Awards Woman $3.1 Million for Failed Jaw Implant Surgery," Tucson Citizen, May 11, 1995.
Borom v. Eli Lilly & Co., No. 83-38-COL (M.D. Ga., Nov. 21, 1983); Washington Post, Nov. 22, 1983, at A1.
See, e.g., MDU Resources Group v. W.R. Grace & Co., 14 F.3d 1274 (8th Cir. 1994), cert. denied, 115 S. Ct. 89 (1994); Borel v. Fibreboard Paper Products Co., 493 F.2d 1076 (5th Cir. 1974), cert. denied, 419 U.S. 869 (1974); Fischer v. Johns-Manville Corp., 472 A.2d 577 (N.J. Super. 1984), aff'd, 512 A.2d 466 (N.J. 1986).
Grimshaw v. Ford Motor Co., 174 Cal. Rptr. 348 (Cal. App. 1981).
Teuton v. A.H. Robins Co., 738 P.2d 1210 (Kan. 1987).
Crusan v. Bassett Furniture Co., Cal. Sacramento Super. Ct., June 11, 1986.
"Texas Judge Orders Release of Chrysler Minivan Documents to Public," Automotive Litigation Reporter, Aug. 6, 1996; "Settlement Approved in Minivan Latch Lawsuit," Bergen Record, Dec. 3, 1995, at A22.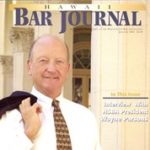 A resident of Honolulu, Hawaii, Wayne Parson is an Injury Attorney that has dedicate his life to improving the delivery of justice to the people of his community and throughout the United States. He is driven to make sure that the wrongful, careless or negligent behavior that caused his clients' injury or loss does not happen to others.