Why travel to Hawaii and not go out on the ocean in a boat? Whale watching, scuba diving, sunset sails and other opportunities are among the most popular Hawaii tourist attractions.
Caution should be exercised in going out on one of these boats. The wind in Hawaii creates rough water off shore. Storms far from Hawaii generates swells that travel hundreds and thousands of miles to create Hawaii's famed ocean waves and surf. The channels between the Islands have some of the roughest water in the world. So a seemingly peaceful trip out to sea in Hawaii can – and usually will – involve encounters with large waves. The water looks blue and warm but a collision between the hull of a boat and a moving ocean wave is a violent event and injuries are common.
Here is a video of a 90 foot boat out in the Molokai Channel. You can see how rough the ocean can be around Islands:
http://www.youtube.com/watch?v=B-8VTtlroZ0
You can't see this from shore because the Mountainous islands protect the near shore ocean from wind. The boat operators know that there is a "wind line" off shore where the ocean becomes rough. The key is the operator of the boat. The crews are often not highly trained and turnover is high. Many of the crews seem to think that the passengers want a thrill ride and they speed into the oncoming swells with the boats sometimes going airborne. Many of the boats have limited safe seating areas and not enough things to hold onto thus putting the unprepared passengers at risk.
Steering the boat is a crucial aspect of avoiding collisions with waves that will injure. Speed is another factor. Often the boat has a tight schedule to get out and then back to the shore and the operator carelessly increases the throttle to make the schedule.
Hard bottom inflatable boats are common offenders. They have limited places to sit and hand holds are not fit for impacts with waves. I have handled many injuries on this type of boat.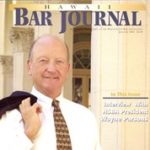 A resident of Honolulu, Hawaii, Wayne Parsons is an Injury Attorney that has dedicate his life to improving the delivery of justice to the people of his community and throughout the United States. He is driven to make sure that the wrongful, careless or negligent behavior that caused his clients' injury or loss does not happen to others.