A young Sailor is dead after being struck by a truck that crossed the centerline on Kamehameha Highway near Kualoa Ranch and struck his bicycle. Nothing can be more tragic than the death of a soldier. The risks of war are one thing but being hit by a driver who fell asleep at the wheel is disheartening and terrible sad.
Wayne Vierra Jr., 37, from Ka'a'awa was arrested Friday night about 2 hours after a young man riding a bicycle along Kamehameha Highway was in a collision with a car allegedly driven by Vierra. Charges of negligent homicide are under investigation. The incident happened near Kualoa Ranch. The fatal accident occurred on Kamehameha Highway about 5:40 p.m.
Vierra was released pending further investigation.
Actually two bicycles were hit. The bicyclist who was killed was believed to be 23 and stationed at Pearl Harbor. He was pronounced dead at the scene according to City Emergency Services spokesman Bryan Cheplic. The extent of the injuries to the surviving bicycle rider are not known but they are reported not to be life threatening. According to the Honolulu Advertiser story:
Police closed Kamehameha Highway in both directions while vehicular homicide officers conducted their investigation. Police reopened the highway at 9:40 p.m. One traveler reported counting several hundred Kahuku-bound vehicles backed up on the highway.
It now appears that Vierra may have fallen asleep according to a recent update by KITV News:
A driver responsible for a fatal crash may have fallen asleep at the wheel, police said.

Police said a truck heading toward Kahuku crossed the center line and smashed into two bicyclists near Kualoa Ranch at about 5:30 p.m. Friday.

The smashed bicycle lay on the side of Kamehameha Highway.
It appears that neither speed nor alcohol were involved in Vierra's truck crossing the centerline. It appears that he fell asleep. The unfortunate bicycle rider who died was pinned under the truck:
"After the impact he went with the vehicle for some distance that he was stuck under the truck and pushed or dragged with it," said Lt. Darren Izumo, with the Honolulu Police Department.
According to the The Pedestrian and Bicycle Information Center bicycle fatalities account for 2% of all traffic fatalities in the U.S. and also account for 2% of all traffic injuries.
The Insurance Institute for Highway Safety has accumulated statistics on nationwide bicycle fatalities from 1975-2002:
660 bicyclists were killed in crashes with motor vehicles in 2002. This is 9 percent fewer than in 2001 and down 34 percent since 1975. Bicycle deaths are most likely to occur in summer. Deaths are most likely to occur on Fridays and Saturdays. The peak time is 3-9 pm.
Ninety-eight percent of bicyclists killed in 1999 reportedly weren't wearing helmets.
Deaths of older bicyclists are an increasing problem. Seventy-one percent of 1999 bicycle deaths were riders 16 years and older. This compares with 32 percent of bicycle deaths in 1975.
Four states (California, Florida, New York, and Texas) accounted for 43 percent of bicycle deaths in 1999.
More bicyclists were killed in urban areas than in rural areas (64 percent compared with 36 percent) in 1999.
Thirty-five percent of bicycle deaths in 1999 occurred at intersections.
Fifty-seven percent of bicycle deaths in 1999 occurred on major roads, and 37 percent occurred on local roads.
Fifty-nine percent of bicycle deaths among children younger than 13 and 27 percent of adult bicycle deaths occur on minor roads. Adult bicyclists are more likely than children to be killed on major roads (67 percent compared with 38 percent).
Sadly the highways in Hawaii are narrow and few bike lanes exist to accommodate both cars and bicycles.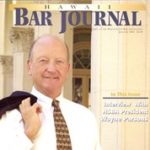 A resident of Honolulu, Hawaii, Wayne Parsons is an Injury Attorney that has dedicate his life to improving the delivery of justice to the people of his community and throughout the United States. He is driven to make sure that the wrongful, careless or negligent behavior that caused his clients' injury or loss does not happen to others.