Some days are better than others. Yesterday was a great day. I was at Maluhia Nursing Home in Honolulu where I donated two Nintendo Wii games to the facility. A raucous group of residents gathered in the recreation room to see what Wii-hab is all about.
They know a lot about rehabilitation but Wiihabilitation was a new concept. Its a lot more fun the rehabilitation. In fact its a riot.
First up was Mr. Araki in the bowling game. After a little practice he got the ball going right down the middle. The fact that he must stay in a wheelchair didn't stop him for a second and he will be a star in the rec room at Maluhia soon. The KITV News cameraman, Sonny, stopped filming the event and gave tips learned from his daughter to residents about how to rotate the hand to get the right movement on the ball in bowling. Everyone was involved. Everyone was smiling and laughing and cheering.
Everyone was involved.
Let me just reflect on that concept for a minute. I love those words when it pertains to good cheer and good deeds.
This effort is part of a national campaign by over 60 Injury Board law firms in 25 states to bring some fun to the less fortunate in our communities and at the same time contribute to health by adding a little exercise to the lives of regular people.
Nintendo Wii Assists United Cerebral Palsy Therapy Program
Lombardi Law Firm Donates Wii to Blank Children's Hospital Pediatric Therapy Services in Ankeny
We like to get into the community in Honolulu and support activities for kids and seniors and people who have unmet needs. In this economy places like Maluhia Nursing Home are short of funds and staff and services are strained. Still the staff and residents were full of smiles and optimism and I think they really enjoyed the Wii's we donated.
I'll be going back in a while to check on how they are doing.
People matter.
That's why I became an attorney.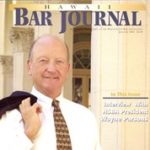 A resident of Honolulu, Hawaii, Wayne Parsons is an Injury Attorney that has dedicate his life to improving the delivery of justice to the people of his community and throughout the United States. He is driven to make sure that the wrongful, careless or negligent behavior that caused his clients' injury or loss does not happen to others.