This week on National Public Radio (NPR) "All Things Considered" highlights new legislation banning pre-dispute mandatory binding arbitration clauses. A recent article posted on Injury Board is a good resource on the subject of forced arbitration and covers the NPR story: NPR Examines "An Arbitration Culture".
NPR spoke with Jamie Leigh Jones, who had a harrowing experience as a private contractor in Iraq when she was raped and beaten by her coworkers. When criminal charges could not be filed, she sought to hold her employer, KBR / Halliburton, accountable for their misconduct. But a forced arbitration clause buried in her employment agreement meant she could not have a jury trial. Instead, she would have to go to arbitration, on the corporation's own terms, for a secret, one-sided tribunal. Jamie's attorney, American Association of Justice (AAJ) member Todd Kelly, and her appellate counsel is John Vail of the Center for Constitutional Litigation.
In April AAJ and other consumer, employment, and civil rights groups urged Congress to pass the Arbitration Fairness Act and the Fairness in Nursing Home Arbitration Act. These two bills would put an end to binding mandatory arbitration clauses (forced arbitration) in certain consumer, employment, franchise, and nursing home care contracts that unfairly target certain vulnerable people.
On Arbitration Fairness Day, over 30 victims of forced arbitration from targeted states came to Washington D.C. to lobby for the passage of the bills. The day was marked with a noon press conference at which the sponsors of the Arbitration Fairness Act, Senator Russ Feingold and Representative Hank Johnson, spoke about the need for the legislation. Also speaking at the press conference were Jamie and other individuals who have suffered terrible consequences as the result of forced arbitration.
I have written articles on this issue before on my Blog and you will find lots of background information and resources in those articles.
Forced Arbitration: Tort Reform By Contract
Fact Sheet For Arbitration Fairness Act
Public Justice, the great consumer advocate has a 15 year record of challenging these abusive corporate tactics in Court and I am sure that Arthur Bryant an Paul Bland, consumer giants and great attorneys at Public Justice will celebrate the passage of these Bills. If you are interested in a true American hero, Paul Bland is a role model for that category:
Top Dog for the Underdog For his all-consuming dedication, some recognition from his countrymen
David Deal

When he was in law school, Paul Bland knew only that he wanted to pursue public service. He didn't foresee a career as an award-winning champion of consumer rights.

If the world of consumer rights law is a battle against modern-day Goliaths—banks, HMOs, mortgage brokers, credit card companies and others with powerful resources—then F. Paul Bland Jr. '86 is more than ready to play David. And, he says, the stones in his slingshot include some lessons learned at Harvard Law School from a giant of another kind: the late Vern Countryman, who taught at HLS from 1963 until 1987.

So when the National Consumer Law Center recently honored Bland's contributions to consumer rights advocacy with the Vern Countryman Consumer Law Award, Bland felt a renewed sense of connection to the professor he encountered at HLS more than 20 years ago.

As a staff attorney at Public Justice, a public interest law firm with headquarters in Washington, D.C.—and especially as director of the firm's Mandatory Arbitration Abuse Prevention Project—Bland has fought some of the more egregious injustices committed against consumers by major companies. Though mandatory arbitration is designed to prevent a glut of consumer claims from tying up the courts, he explains, some companies add arbitration clauses to their consumer contracts—including clauses compelling consumers to give up the right to pursue class-action litigation—that make it nearly impossible for customers to bring cases. The provisions take many forms, he adds, but their goal is the same: to make the arbitration process discouragingly opaque and intimidating.

"People think of alternative dispute resolution as having so much promise—giving fairer, faster ways to deal with claims," Bland says. "But what's happening in a lot of cases is that the more powerful party takes advantage. A subprime lender is taking advantage of a poor person, or a car dealer of a consumer, or a nursing home of the person going in."

Bland says his views of the problems faced by the powerless were influenced by Countryman during law school, even though he never took a class with the professor. In his third year, as president of the Journal on Legislation, he solicited Countryman to write an article on an important piece of bankruptcy legislation. At first, Bland found bankruptcy law "unbelievably boring," but he says he began to understand its importance and its relevance to consumer protection in conversations with Countryman, who repeatedly tried to rouse his interest in it.

"As I got into the world and I started representing low-income people, a lot of the ideas that he was trying to explain have become a lot clearer to me," Bland says. "What I've come to see is that [bankruptcy law] really stands between a lot of people and the equivalent of debtors' prison. It's an incredibly important protection."

Bland's caseload has taken him to state and federal courts across the country, including the U.S. Supreme Court in 2005. But even when he travels, he makes time to meet with other consumer advocates ("a community of lawyers who really stick together," he says) to share some of the finer points of fighting uphill battles.

"The asymmetry of resources is huge," he says, "but it can be fun to be the underdog."
Voices count. People matter. Your opinion matters. Even the great attorney Paul Bland and the team at Public Justice cannot do it without you. The corporate schemes to undermine the rights of American consumers by tricks like forced arbitration have been stymied by individual attorneys like Paul Bland and Arthur Bryant, but they need more tolls like The Arbitration Fairness Act to make sure that justice is possible for all Americans. So speak up for your rights and take America back from the corporate CEO's and CFO's and the U.S. Chamber of Commerce, their lobbying tool! Never forget that Together We Are Strong".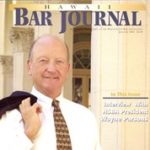 A resident of Honolulu, Hawaii, Wayne Parsons is an Injury Attorney that has dedicate his life to improving the delivery of justice to the people of his community and throughout the United States. He is driven to make sure that the wrongful, careless or negligent behavior that caused his clients' injury or loss does not happen to others.