No this isn't about how to poison a turkey, or the people who will eat the turkey on Thanksgiving. Its about how to prevent that from happening.
Why worry you ask? Here are the facts according to the Center for Science in the Public Interest (CSPI)
WASHINGTON – At a news conference today, the Center for Science in the Public Interest (CSPI) urged the U.S. Department of Agriculture (USDA) to immediately begin testing turkeys for the illness-causing bacteria Campylobacter. The urgent recommendation was based on the laboratory results of a new study of turkeys tested for harmful bacteria. It is estimated that Campylobacter causes 47% of all food poisonings each year. Currently, the USDA is required only to test turkeys for Salmonella, another harmful bacteria.

In the new CSPI study, laboratory tests were conducted to determine bacteria levels on fresh and frozen turkeys from five cities. The turkeys were purchased at local grocery stores in Washington, D.C., New York City, Chicago, Los Angeles, and Miami/Ft. Lauderdale.

"Last year USDA released data on turkey contamination that showed 90% of the turkeys tested in 1996 and 1997 were contaminated with Campylobacter and 18% were contaminated with Salmonella," said Caroline Smith DeWaal, director of Food Safety for CSPI. "This year, CSPI hoped to document positive changes in turkey safety due to the new mandatory hazard control systems (called HACCP) now used in most turkey plants. Instead, what we found was shocking."
The Food & Drug Administration (FDA) has helpful tips to avoid holiday food poisoning that we all should follow. I hope my office gets no calls about food poisoning after Thanksgiving weekend. If you follow these simple tips you will make sure that you don't need to call.
First of all frozen turkeys are risky when they are stuffed at the factory. Never buy a frozen stuffed turkey unless it has a certificate that it was stuffed at the plant under USDA inspection.
Cook: Stuffing is a major source of food poisoning so prepare it safely. Raw meat, shellfish or poultry should be cooked prior to stuffing the turkey to reduce the risk of food poisoning from bacteria in raw ingredients. Dry and wet stuffing ingredients should not be mixed until just before putting the stuffing into the turkey. Stuffing must be cooked immediately and refrigerated in shallow containers if it is done ahead of time.
Stuff Loosely: Don't allow stuffing to cool after cooking. Stuff the turkey immediately and keep it loose. For each pound of turkey use 3/4 cup of stuffing and make sure that it is moist – heat kills bacteria in a moist environment.
Don't Stuff: If you are going to microwave, grill, fry or smoke a turkey DO NOT STUFF IT!
Cook Immediately: Never below 325 degrees F.
Use a Food Thermometer: The minimum internal temperature of 165 °F must be established. The thermometer instructions usually direct insertion into a deep portion of the meat. The stuffing must also reach 165 °F. The stuffing could contaminate the turkey.
Let It Rest: Don't disturb the turkey for 20 minutes. It is still cooking.
Refrigerate: Protect the turkey by refrigerating and reheat everything to 165 degrees F.
Food poisoning is common at Thanksgiving. Undercooked turkey and stuffing are dangerous sources of bacteria. Exotic stuffings with meat or shellfish (oyster) ingredients are risky. Mistakes can spoil the party and end up in death. Be safe. Take precautions.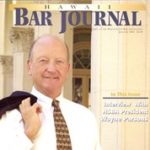 A resident of Honolulu, Hawaii, Wayne Parson is an Injury Attorney that has dedicate his life to improving the delivery of justice to the people of his community and throughout the United States. He is driven to make sure that the wrongful, careless or negligent behavior that caused his clients' injury or loss does not happen to others.