The Environmental Working Group (EWG) has recently focused on children and bisphenol-A (BPA). I want EWG at the table, advocating for our kids – and yours – so their health is no longer compromised by toxic chemicals like bisphenol-A (BPA), which is dangerous to kids' growing bodies, implicated in diseases and problems such as diabetes, heart disease, neurological disorders, and cancer.
Feeding our children should be about choosing first foods, messy bibs, and learning to use a cup – not keeping tabs on scientific research to avoid harmful chemicals like BPA.
http://www.youtube.com/watch?v=N3_cYZKksvI
I'm impressed by EWG's track record. EWG works hard, and smart to pass strong laws that protect American families from chemicals like BPA.
Plus, their cutting-edge research and constant presence in Congress has played a major role in some important wins:
Six U.S. baby bottle makers agreed to stop making their polycarbonate (#7) plastic products with BPA.
CT, NJ, and MN have passed statewide BPA legislation aimed at protecting children and families.
BPA remains in the lining of aluminum baby formula cans and many other food and drink containers. We're grateful that EWG is working on important legislation in California and Washington, DC that would virtually eliminate BPA from baby feeding products.
Now is absolutely the time to contribute to EWG. They need your support to work against the well-funded chemical lobby and eliminate BPA as a threat to our children.
The Washington Post was able to procure the internal notes of a private meeting that involved "frustrated industry executives huddled for hours" working to minimize consumer anxiety over BPA, it said. The Post also reported that the group was concerned with young mothers since that demographic is both generally in charge of household purchasing and most concerned with health issues.

Citing an unidentified participant, the notes stated, said the Washington Post, that those in attendance, "believe a balance of legislative and grassroots outreach [to mothers 21 to 35 years old and students] is imperative to the stability of their industry; however, the association members continue to struggle to initiate research and develop a clear-cut plan to defend their industry," The team looked at ideas such as "using fear tactics [e.g. "Do you want to have access to baby food anymore?" and finances, by offering the choice between expensive non BPA packaging (frozen and fresh foods) and cheaper canned products, according to the notes, said The Post, which added that the public campaign spokesperson would be, a "pregnant young mother … willing to speak around the country about the benefits of BPA."

We just reported that, according to the LA Times, a study confirmed what experts have long suspected, containers made with BPA leach the chemical into the liquids being held, even when not heated. According to the Harvard School of Public Health, BPA exposure has been shown to interfere with reproductive development in animals and has been linked with cardiovascular disease and diabetes in humans.

Despite industry's arguments that BPA is safe at current dosages, the ever-present chemical has been linked to an increased risk of brain, reproductive, and immune systems diseases and disorders; problems with liver function testing; and interruptions in chemotherapy treatment. BPA is also associated with serious health problems based on 130 studies conducted in the past decade and newer research found BPA to have negative effects at "very low doses," lower than the FDA's current safety standards. Studies also revealed BPA stays in the body longer than previously believed.
Join me today in supporting EWG Action Fund. I'm glad they're on our side – and want them to stay there.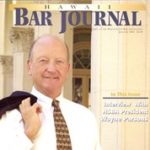 A resident of Honolulu, Hawaii, Wayne Parson is an Injury Attorney that has dedicate his life to improving the delivery of justice to the people of his community and throughout the United States. He is driven to make sure that the wrongful, careless or negligent behavior that caused his clients' injury or loss does not happen to others.