Here is a brief history of using surgical (hernia) mesh:
1970's: Surgical (hernia) mesh used to correct various hernias.
1990's: Using a mesh for hernia repairs gains wide acceptance by doctors.
2010: $1.5 million verdict against R. Bard regarding it's Kugel hernia mesh.
2011: $184 million paid by Bard to settle over 1,000 hernia mesh claims.
April 2016: FDA warns the public about "many reports" that patients with hernia mesh experienced "pain, infection, recurrence, adhesion, obstruction, and perforation".
2018:  Ethicon Physiomesh lawsuits in federal court are consolidated in the Northern District of Georgia for pre-trial proceedings. See Physiomesh MDL Court Sets Schedule for First Bellwether Trial by ERIC T. CHAFFIN  NOV 20, 2018
This snapshot of events is just the tip of the iceberg. The number of surgical mesh manufacturers has grown _ and continues to grow _ to meet a huge worldwide demand. The rush to profit from mesh sales resulted in many defective mesh products getting to market. Reports of serious complications arose and increased alarmingly.
The results of the early "Kugel Mesh" lawsuits drew hundreds of law firms into the the search for injured patients. A person with serious complications from their hernia mesh implant, was confused by the large number of ads by advertising law firms with 800-numbers, and promises of money.
In Hawai'i I started receiving calls from confused local residents wondering who to trust and what to do. Often the experience was "talking to a switch board operator" not a lawyer, and hurriedly being asked to sign papers and open up the private patient medical records to strangers. I decided to offer Hawai'i residents a better experience and a higher quality of service.
From my offices in Honolulu I am now handling hernia mesh cases for Hawai'i residents. To do that right I had to work with one of the many law firms that are deeply into the science and engineering aspects of these cases. I chose to work with the mainland law firm of  Chaffin Luhana out of New York City, as my co-counsel in these cases. I know them well and I hold Eric Chaffin in the highest regard for legal expertise, litigation skills, ethics and honesty. I know personally most of the credible litigation law firms on the mainland, because for more than 25 years I was one of two Hawai'i trial lawyers, on the Board of Governors of the prestigious American Association for Justice (AAJ), based in Washington, D.C. My friend Mark Davis, was the other Hawai'i trial lawyer on the AAJ Board. I been actively involved in all aspects of litigating tort cases for over 30 years.
If you think you have a hernia mesh problem, call me (Cell 808-753-0290) to talk about the situation. Whether your questions are medical or legal, or just to talk to a real lawyer who lives in the Islands, and get to know who I am and to see if you feel comfortable with me as your lawyer, call and we can talk. No pressure. You have more than just the 800-number mass-marketing firms at your disposal. I have offices across from the Federal Building and in Kalihi. And let your friends know in case they have a problem.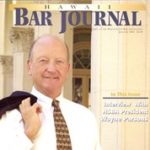 A resident of Honolulu, Hawaii, Wayne Parsons is an Injury Attorney that has dedicate his life to improving the delivery of justice to the people of his community and throughout the United States. He is driven to make sure that the wrongful, careless or negligent behavior that caused his clients' injury or loss does not happen to others.