There is important new hope for brain injury and spinal cord injury patients reported in Science Daily Health!
An important new study of rats with minor spinal cord injuries showed full recovery in rats that had to use the impaired limb. The explanation for this phenomenon is that by using the impaired limb the growth of healthy nerve fibers is increased as is the formation of new nerve cell clusters. The study was published in the Journal of Neuroscience. Society for Neuroscience (2008, September 20), Sole Use Of Impaired Limb Improves Recovery In Spinal Cord Injury.
The findings show the promise that physical therapy holds for spinal cord injuries and point the physical therapists and doctors treating spinal cord injuries towards therapies that use the impaired limbs in patients with spinal cord or brain injuries.
Dr. Stephen Strittmatter, MD, PhD, of Yale University School of Medicine points out that although physical therapy has long been the standard of care therapy for spinal cord and brain injuries resulting in impairment of the use a limb, that the mechanisms of why it is beneficial has not been understood. Dr. Strittmatter was not affiliated with the current study which was conducted at the University of Zurich and the Swiss Federal Institute of Technology by Irin Maier and Martin Schwab.
Rats with an impaired limb were divided into groups. In one group the limb was restricted so the rat could not use it and in the other group the good limb was restricted so the rat had to use the impaired limb. After there weeks the restrictive braces were removed and in a ladder test the rats who had been forced to use the impaired limb showed complete functional recovery. In contrast the other rats had significant difficulty with the horizontal rungs of the ladder.
In all rats there was growth of healthy nerve fibers (axons) but the rats that were forced to use the impaired limbs showed more extensive nerve growth. The medical researchers hypothesize that use promotes healthy nerve cells to form new connections (synapses) with the cells affected by the injury thus rerouting and rewiring damages circuits in the spinal cord circuits associated with movement.
This research also used gene chip technology that measured how limb use turned on and/or off certain genes involved in never fiber growth and synapse formation. These discoveries could lead to new drugs for treatment of spinal cord injuries. For those with spinal cord injury this study points towards an increase in physical therapy over that already given. The work was supported by the Christopher and Dana Reeve Foundation as well as the Swiss National Science Foundation.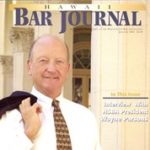 A resident of Honolulu, Hawaii, Wayne Parsons is an Injury Attorney that has dedicate his life to improving the delivery of justice to the people of his community and throughout the United States. He is driven to make sure that the wrongful, careless or negligent behavior that caused his clients' injury or loss does not happen to others.