They are all injured – my clients. Their lives have been visited by misfortune. Sometimes their house is falling down or some variation of that theme. Sometimes an insurance adjuster working for a huge insurer like Allstate or AIG is holding back on paying their medical bills or refusing to pay their lost wages – and the fear of being thrown on the streets is in their hearts. Sometimes they have been cheated or discriminated against. Sometimes they can't move or see or they hide their scars from public view. Sometimes they have lost a child or a parent or their partner. An attorney's life is full of passion and poetry. Real life. Real passion. You have to look hard to see the poetry but it is there. The people who pass through the door of an attorney's office walk in with hardship, disappointment and loss in their minds and heavy in their hearts. I want to share this little poem by Rumi as my reflection on life in general and the pain and fear that often comes to us – and particularly to my injured clients:
The Guest House

This being human is a guest-house.

Every morning a new arrival.

A joy, a depression, a meanness,

some momentary awareness comes

as an unexpected visitor.

Welcome and entertain them all!

Even if they're a crowd of sorrows,

who violently sweep your house

empty of its furniture.

Still, treat each guest honorably.

He may be clearing you out

for some new delight.

The dark thought, the shame, the malice,

meet them at the door laughing,

and invite them in.

Be grateful for whoever comes,

because each has been sent

as a guide from beyond.

– by Rumi
That's all. Nothing more tonight.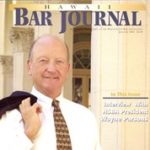 A resident of Honolulu, Hawaii, Wayne Parsons is an Injury Attorney that has dedicate his life to improving the delivery of justice to the people of his community and throughout the United States. He is driven to make sure that the wrongful, careless or negligent behavior that caused his clients' injury or loss does not happen to others.