I heard a great man give a casual talk to about 20 people today at a brown bag lunch. As we ate our sandwiches he answered questions which led him to note the wonderful diversity of the people of Hawaii. He talked about knowing Barrack Obama's father while they (the father, not Barrack) were in school at the University of Hawaii in 1959. He talked about being at the wedding of President Obama's sister on the Big Island long before Obama was pointed toward the Presidency of the United States. The wedding was as diverse a cross section of people as you could imagine, and he was struck by that beautiful mixture as the wedding took place.
When asked about his views on civil justice in this country he reminded us that there are three things that every person must have in order for our democracy to exist:
1. The right to vote

2. The to trial by jury

3. The right to sue "the King"
Of course we don't have a King in America but these rights trace from ancient times when there were "kings" who ruled. The idea is that these rights elevate every person to the same level. That is what democracy is all about. As political forces attack these rights with the concept of tort reform (I call it tort "deform" because it is premised on lies) the public must be educated about what is going on: The democracy that we have in America is being undermined.
The great man is Neil Abercrombie, long term member of the Hawaii congressional delegation and now candidate for Governor of the state of Hawaii.
As you may note by these comments, he has my support. He is a man of the people. He is a wise man. Neil Abercrombie will be a great Governor in our unique and diverse state. Thinking back to Neil and the President's father talking and sharing dreams at the University of Hawaii in 1959, I am struck by the fact that the paths have rejoined through his good friend's son, the President of the United States. Mr. President, here comes Governor Abercrombie. The future of Hawaii is bright with Neil Abercrombie coming home to take the helm of state government.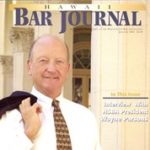 A resident of Honolulu, Hawaii, Wayne Parson is an Injury Attorney that has dedicate his life to improving the delivery of justice to the people of his community and throughout the United States. He is driven to make sure that the wrongful, careless or negligent behavior that caused his clients' injury or loss does not happen to others.