Heparin is an anticoagulation drug that is commonly used in various medical contexts such as dialysis and when blood clotting is a concern. But administering Heparin to victims of cardioembolic stroke – a stroke caused by a blood clot – may lead to bleeding and dire consequences. Warfarin sodium is often admistered to stroke patients but it takes several days to reach therapeutic levels. A recent study by Hen Hallevi, M.D., of the University of Texas Health Science Center at Houston shows that if Heparin is administered with Warfarin sodium after a cardioembolic stroke the problem with bleeding may be lessened.
The current standard of care for cardioembolic stroke does not allow anticoagulation therapy immediately after the event but patients eventually get anticoagulation therapy. Up until now there is no concensus on when that therapy should begin. Even with the combination of Warfarin and Heparin the risk of intracranial and systemic bleeding is high. warfarin on the other hand appears to be safe when started at any point in the hospital stay.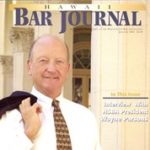 A resident of Honolulu, Hawaii, Wayne Parson is an Injury Attorney that has dedicate his life to improving the delivery of justice to the people of his community and throughout the United States. He is driven to make sure that the wrongful, careless or negligent behavior that caused his clients' injury or loss does not happen to others.