The patient experienced shortness of breath and coughing and felt a constant need to clear his throat. He went to an internist at a medical group, who ordered a chest X-ray. The X-ray was interpreted as normal by a radiologist, and the internist told the patient that he was fine.
Nearly two years later the patient returned to the medical group, again complaining of shortness of breath and additional X-rays revealed a density in his lung. He was later diagnosed as having Stage IV lung cancer.
Treatment was impossible at that time and the patient died of lung cancer within the next two years.
In this case the first radiologist failed to identify an abnormality in the first chest X-ray. The medical group where the radiologist worked was also lax in hiring, training, and supervising the internist.
Despite the fact that some lung cancers cancer are labeled as aggressive, and that some doctors would argue that the outcome would not have changed had there been an earlier diagnosis, this case was successfully pursued and resulted in a settlement.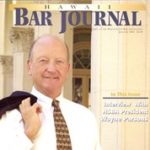 A resident of Honolulu, Hawaii, Wayne Parson is an Injury Attorney that has dedicate his life to improving the delivery of justice to the people of his community and throughout the United States. He is driven to make sure that the wrongful, careless or negligent behavior that caused his clients' injury or loss does not happen to others.